Welcome to The Twinery blog hop! How fun is this?! We are so glad you could join us for our 1st Anniversary Celebration blog hop with....
AND..
 I sure hope you are finding some awesome inspiration along the way! Read through this post to find out how you can win THREE Echo Park paper kits, One Echo Park Happy Days kit, and a sampler pack of The Twinery twine!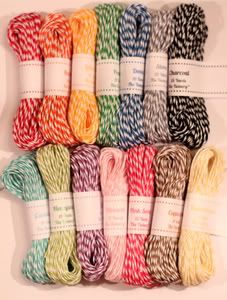 If you came here by way of Paper, Scissors and Glue's blog, you are on the right track. If not, make sure you start at the beginning over at The Twinery's blog because there are terrific prizes for those who complete the hop by commenting on each blog! And we all LOVE prizes, right?!
Twine is so fun to use with all sorts of projects.. The Twinery offers several fun colors! I just love it! To help celebrate The Twinery's first year we've made some fun little projects to share with you all! I'm part of the Echo Park Paper design team and am SO happy to be doing this blog hop with The Twinery! So let's get to it!
Now, I will say this project is not what I had in mind. I was totally busy the week prior to this and had surgery on the 10th, yes, as in a week ago! I know.. I SHOULD be resting, lol... So I had to finish this up AFTER surgery and I ended up not feeling very good, but I tried! I created a birdcage decorated for Halloween with the Apothecary Emporium papers from Echo Park! (I LOVE this kit!) I had fun with it, and really wish I felt 100% so I could put more work into it. It was actually suppose to be a hanging decoration with TWO birdcages and the word 'spooky' through the middle on accordion folded rosettes. So, if you tackle this project and decide to make a full banner, I would LOVE to see! You can share it on my FACEBOOK WALL (or just come 'like' me on facebook! I love new friends!)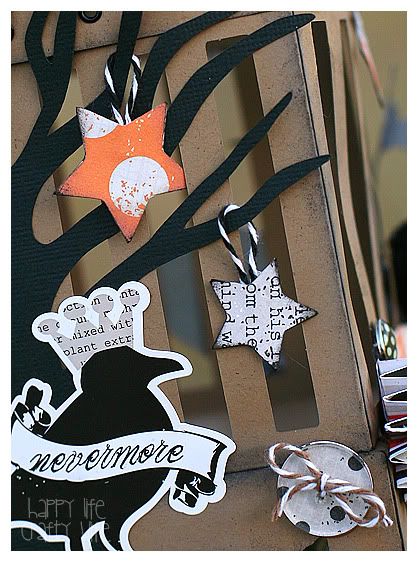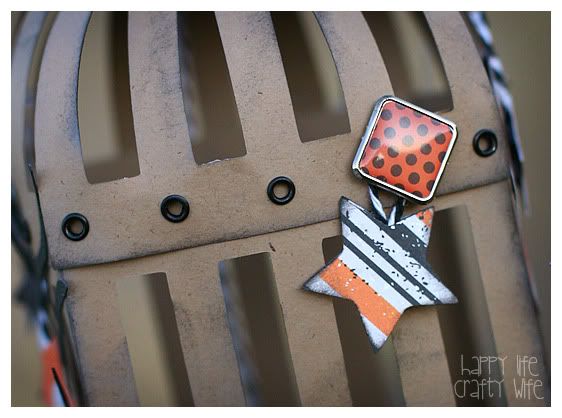 How do you like it?! Pretty simple, right? Love the little touches of that Twinery twine!
A few little design tips:
I used THIS SVG file for the birdcage and sized it down quite a bit. The SVG kit comes with instructions and it's easy to assemble!
Again, I used the fabulous Echo Park Apothercary Emporium papers! AMAZING line of papers!
I used my Epiphany Crafts shape tool to create the button and one of the epoxy circles. I LOVE my shape tools!
I used some Color Box pewter and black ink on parts of my project. I love adding ink to create shadows and saturation!
I added small black eyelets to the top of the birdcage with my Crop-a-Dile.
The little black crows were found in a nest in the backyard... lol.. kidding, of course! No, they are from Michaels, but I recently saw some at the Dollar Tree! yay for $1.00 fake crows!
I used some 20g jewelry wire to make it look like bats were 'flying' around.
I also used a few of the kit stickers from the Apothercary paper kit! I don't usually use the kit stickers, but I love these ones!
And of course... TWINE!! I used charcoal and capuccino on my project. Just little touches of twine goes a long way!
Have fun with it! You can do all sorts of fun things with this birdcage SVG! You can make it pretty and romantic with paper flowers, lace, etc. My plan was to add a tealight inside the birdcage (battery operated, of course!) That would look so cool I bet! Especially with the tree silhouette shape on the side.
GIVEAWAYS!
Make sure you go all through the hop... at the end you will go back to the ECHO PARK BLOG and comment with what was your FAVORITE project from the hop, I am sure it will be hard to chose as ALL the designers are fan-stinkin'-tastic!!! One person will win THREE Echo Park paper kits of their choice! How awesome, right?!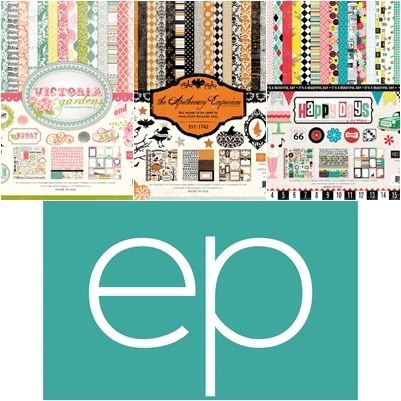 And now for a little giveaway of my own! A lucky winner will get the Echo Park paper HAPPY DAYS kit! This is one of the newest collections and VERY popular! The designs and colors are just fabulous! To enter to win, reply to THIS post! You can say anything you want, but nice comments to me get bonus points! LOL JK! You can get a real bonus entry by leaving a comment on my FACEBOOK PAGE! 
Are you ready to get hopin' You will be heading over to Jen's Ink Spot!
I'm so glad you stopped by! I hope I've inspired you to give baker's twine a try. Please make sure you leave a comment on my blog because there are terrific prizes for those who leave comments on each designer's blogs! The deadline for commenting is 11:59pm EST, Friday, August 19th. Prizes will be announced on Saturday, August 20th. There is amazing Twinery twine and Echo Park kits up for grabs!
I truely hope you enjoyed my project and continue to come back to my blog! I would love if you would follow my blog and 'like' me on Facebook! Once I feel 100% and get back into crafting I have TONS of cute stuff planned for the holidays and plan to use lots of pretty twine and Echo Park Paper! (Have you seen the new holiday lines? Whoo-hoo!) I also have a blogiversary bash that will happen soon! (I had to push it back due to my surgery)... see ya again soon! :)
Have a great week!