.... That I can smash on your furniture and carpet!"
That's exactly what Play-Doh is! Not only does it smell cruddy, it's a total pain to get out of the carpet. My kids love the stuff, but someone ALWAYS gets it smushed somewhere. I always tell them to stay on the play mat with it, but someone has to come and show me their creation and a little ball of salty dough mess falls on the ground and gets stepped on.
I always love to give little goodie bags to my girls' classmates and friends.. They usually include candy, pencils, erasers, plastic spiders, sticky hands/body parts, stickers, maybe a cookie... and PLAY-DOH. Kids love it, most parents hate it.. and I like to be evil, so I send Play-Doh just to get the parents riled up LOL!
The kiddos and I stayed in jammies all day! I know, we're so nasty! I won't tell you the last time I showered.. LOL j/k. Another boring day at home lead me to gettin' crafty and I made some treat bag toppers to show you how cute and SIMPLE using print and cut is! This is going to make school party favors and such go by SUPER fast! I REFUSE to paper piece 60 treat bags/boxes for my girls' classmates. Nope.. not gonna happen! Thank that crafty Gods for this amazing little machine!
All ya need is a little free time (I know.. FREE time? Most mamas don't know what free time is anymore. I can't even go have a potty break in peace!).. *sigh*.... You also need some awesome Halloween paper/digital paper and some spookingly cute Halloween clipcart! There are TONS out there, but I LOVE Jazzy Patterns! She has a little Etsy shop and she designs some fabulous stuff! She (Tatjana) is sweet as sugar too! If you happen to chit-chat with her, let her know I sent ya!
Here's what I made with her 'Happy Halloween' collection!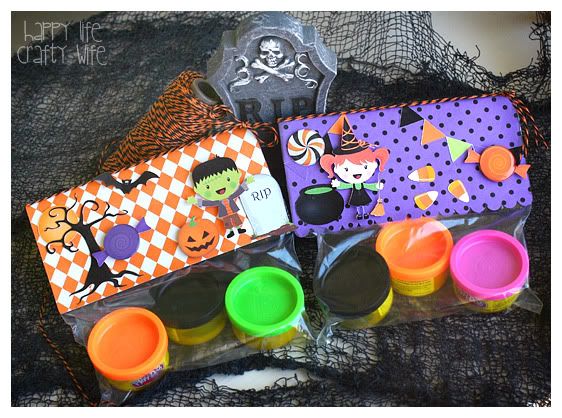 Yeah, just Play-Doh.. no, I am not quite that evil to send several containers of it, I just don't have any Halloween candy.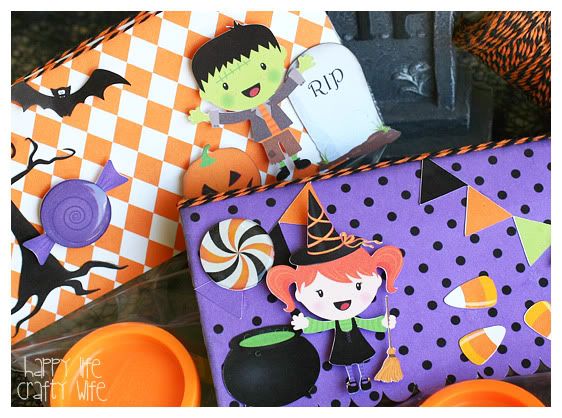 I mean, How cute are those graphics? And as usual, the Silly-butt did an awesome job cutting them out!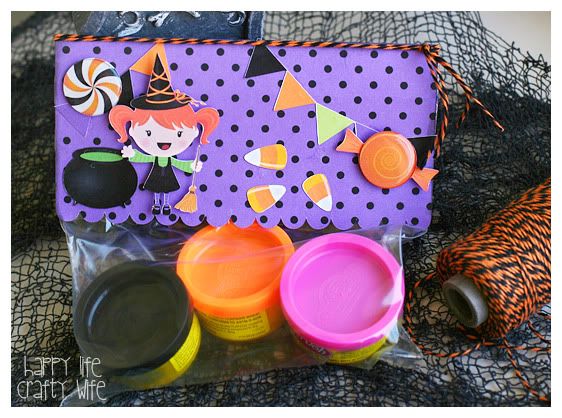 See that amazing Halloween twine? That's from Trendy Twine! <------ That's the Facebook page! Go say "Hi!".....  I love my Halloween twine!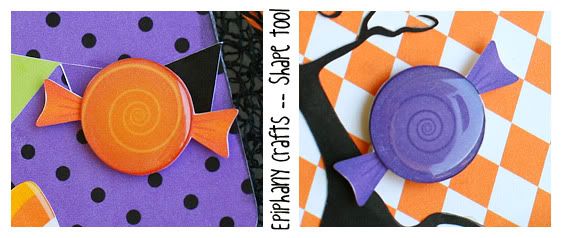 I used my Epiphany Crafts Shape Tool for the candies! Made them look 3D and shiney! Oooooh... Shiiiiney! I love my shape tool!
I know what you're thinking... I 'LOVE' a lot of things.. It's a problem I have, seriously. I love you, too.. Just sayin'! <3 *wink-wink*
Wanna make some?...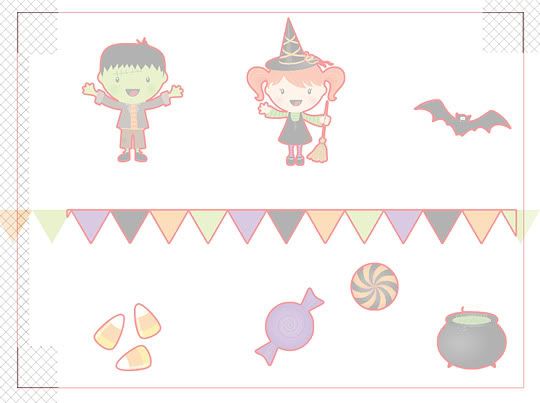 Get the pretties all ready for print and cut in Silhouette Studio.. or whatever program you use, lol.
I didn't keep track of all my sizes, but I do know the children were cut around 2.80" and 2.50" high. So you can size them from that and then kinda size the rest however you think it looks best. That's pretty much what I did.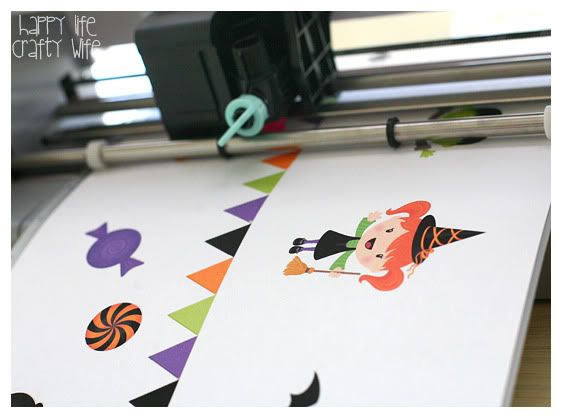 Once you print 'em out.. run them through the Silhouette and watch it do it's magic..
On a side note.. that little witch girl from this angle looks a little scared..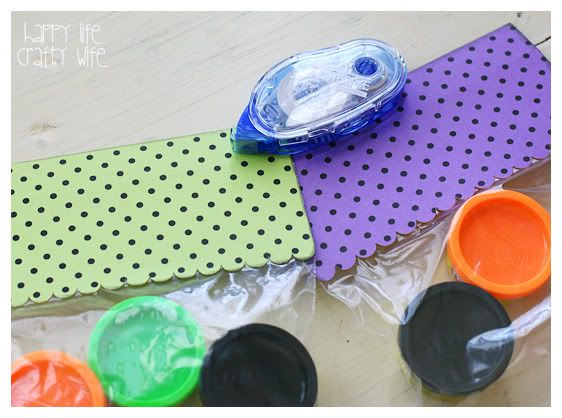 Cut out a shape to fit over the bag. I use Ziploc sandwich sized bags that are 6.50w. I made my covers 6.60w and 6.25 high. Score at 3" and fold. Use the 3.25" side as the front. Add a scalloped trim like I did if you want.
Yep, I changed my mind and went with the orange diamond print instead of the green. I wanted to switch it up a bit from the witch one.
I used Tombo adhesive to stick it to the bag.
Thread some twine through the top if you'd like!
Easy peasy! Now just decorate them!
Fun and simple! The kids would probably enjoy doing this project too! Use some 3d foam adhesive to add dimension.. ink the edges if you'd like.. add ribbon, tags, glitter.. go for it!
Until next time!