And instead of washing dishes or doing the two loads of laundry waiting for me, I find something to craft instead! Don't judge me.. you know you all do the same thing! For what it's worth, I did try to do something with the kiddos, but they were watching a movie on TV and wanted nothing to do with me... *sniffle*.
HA! Sniffle nothin'... I was like, "Whoa, kiddos are entertained and DON'T want me within 2 feet of them for once?.. You bet your glue sticks I ran to my craft area and got busy!
I wasn't in the mood for all sorts of paper piecing.. I'm saving my crafty juices for the new Echo Park kits that are on their way to my house! I have to whip up 3 projects by the 19th, which won't be a problem.. I might even do more! But one of them is pretty detailed, so I don't want to exhaust my poor fingers.... I know, dramatic, right?... LOL. Really, I was just too lazy...
So, my poor lil' Silly-butt (Silhouette) has been sitting there sulking on my table wondering why she's being ignored lately. I decided to show the Silly-butt some love and do some print and cut stuff. And my most favoritest (Yes, that's a word, because I said so.. And so does the 'urban dictionary'.. LOL) place to go for graphic cuteness is Lettering Delights. *swoon*
I picked up the Pucker Up Birthday graphic set and the Pucker Up Paper Pack! You HAVE to browse their pretties! SO many cute cut files, graphics and fonts!
Anyhow, I decide to make a party giftbag and hat! Yes, random party stuff.. fun! I was going to make a little giftbox and a couple cupcake toppers, but my printer is pretty much out of ink and of course I don't have any on hand, egh. Story of my life, always out of something! I really need a huge craft space with lots of storage so I can buy loads of things and stock up! Hmm.. I wonder if hubby really needs that silly ol' garage?.. GAH! Could you imagine a crafty space as large as a two car garage? I'm smiling like a total goober right now thinking about it.. And while we're on this subject, I don't think we really use our master bedroom much so, hmmm.. LOL! I can have the first craft room with a huge bed in it, I mean, crafting can be exhausting, right?
Doh! Rambling, sorry.. lol. If you come to my blog often, you're probably use to it.
So, yeah.. I made a party bag and hat!
TA-DA!
I noticed the shirt my son was wearing kinda matched the bag/hat, so I got him in for a few pictures. I was surprised how excited he was. Like.. hand clapping and a big "YAY!" and all.. Hmmm.. SOMETHING was up...
I got a few good pictures of him wearing the hat and holding the bag... then I realized why he was so excited to take pictures for me... bless his little heart, he thought he was getting a real present from me.. yeah, I know.. jerk mom alert! He said, "Can I open it now, pleeease?!".. I said, " Baby, it's just a bag.. nothing inside" Ooooooh.... The look on his face, "Nothing?" looks inside... "Oh.."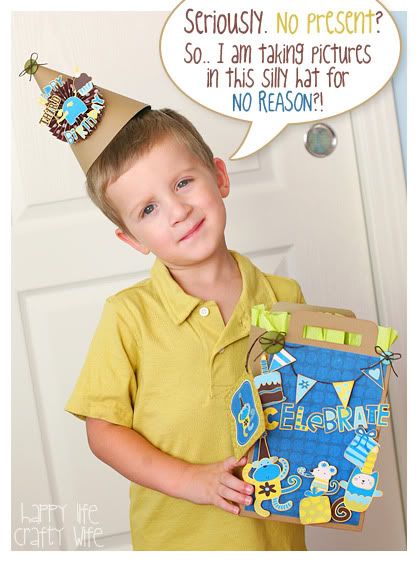 *hand to forehead*.. sorry little dude, mommy owes you a Hot Wheels next trip to the store!.. Maybe a 5 pack. In the meantime, to make up for it, I am making him a big Buzz Lightyear diecut from my Cricut Cartridge to plaster on his wall! And yes, he totally needs a date with some hair clippers!
Here's some more pictures and details!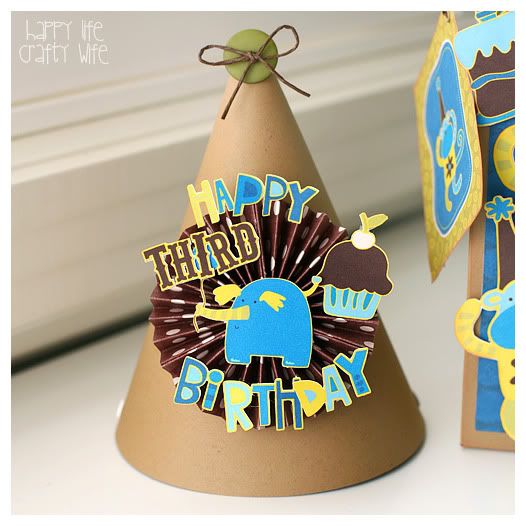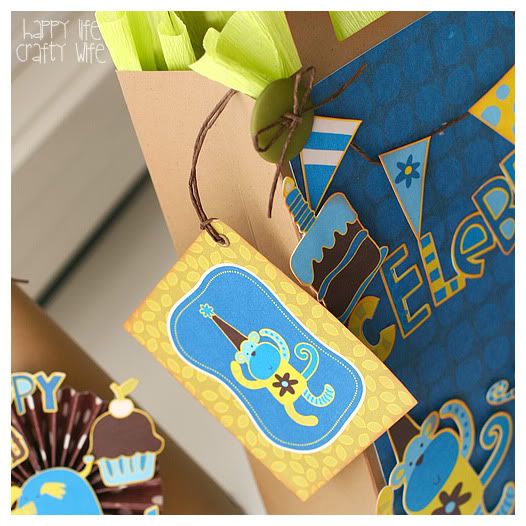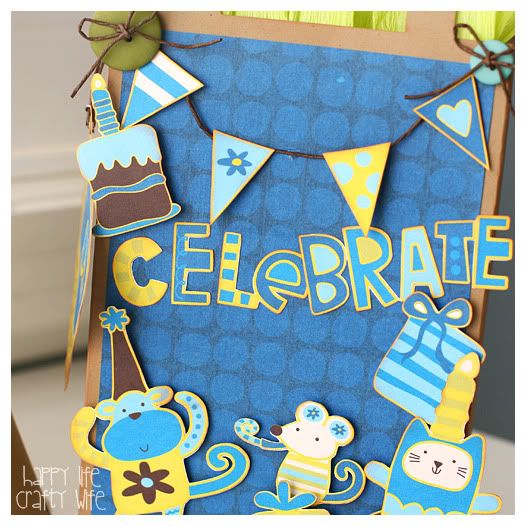 Party hat is a FREE SVG file from SVG CUTS BLOG!
Bag is also from SVG Cuts - The Vintage Halloween bags! It's a great size for a few little gifts.
As mentioned above, my graphics and digital paper are from Lettering Delights!
I used the Silhouette print and cut feature with my graphics. So fun! I just wish my printer would have printed that pretty teal color better. Maybe I can adjust it?..
Other ideas include: birthday banner, cupcake toppers/wrappers, invitations, cards, giftbox, treat bag toppers and more.. You can make a whole party! Maybe after I get more ink I will make a whole matching party set to share! That would be fun!
I hope you all like it!
And on a side note.. my new blog design should be up soon at happylifecraftywife.com! YAY! I am going to have a modern and clean looking blog and I can not wait! The template gets installed tomorrow and then gets tweaked and customized from there!
See ya!