As most of you know, I created a pretty cool witches hat giftbox for Echo park's CHA summer 2011 booth! It got GREAT feedback and I figured that I would get this tutorial done for you all so you can try to make it yourselves!
It's a lot of fun and not that much work! I made a video for the hat part since it's easier to show in a in a video than to explain picture by picture. First, I will expalin everything else, and then add in the video for the hat at the end!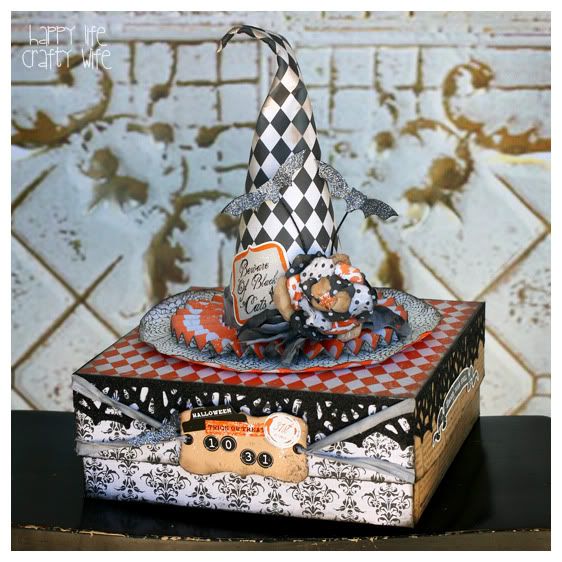 SUPPLIES -
Hot glue
Glue
Vintage crinkle ribbon. Mine is from HERE I used 'almost black' and 'steel'
Apothecary paper kit from Echo Park Paper Co.
Ultra fine glitter (black and a dark grey)
20G Jewelry wire in black
Ink in dark grey and black.
Black eyelets
Paper mache' cone/cardboard cone at 4" diameter.
SVG Collections needed (you can always make this without SVG's)
SCAL/MTC basic shapes
Circle cut at 9"
3 rectangle shapes at 1.50"h and 10.00"w
MISC.
Bats.. I found a FREE SVG file, however I can't seem to find it again. Happy Hauntings cartridge has one as well!
1). Make the big boutique box. You will want to use the Square flat trio LARGEST one. Cut as sized in SCAL. (if you want to make your own box make it 11x11" or larger.
2). The label was different on my original, but you can use the label from SVG Cuts Strawberry lane colelction. file is: label1_bottom.svg cut at 3.00w
3). 3D flower from SVG Cuts is in the 'extras' folder. File is: 28.svg sized in layers from 3.00w to 1.25w. Crickle and ink edges, etc.
Design Tips:
Add ink.. ALL OVER, lol. Inking add SO much!
Add the sticker from the collection kit to the hat!
Glitter the bats and web trims. I brushed on Mod Podge and then sprinkled away! The web was done in black and the bats were done in a dark grey. I used Recollections brand glitter which works GREAT!
Add eyelets and crinkle ribbon to the tag on the front. Add a name, etc. or stickers like I did!
Time for the videos! This will show you how to make the hat and assemble. Once the hat it done you just stick it onto the box!
I kept my face out of this video, so you get to stare at my sausage fingers! LOL! I'm not feeling very well, so I didn't want to put on makeup or do my hair, lol. I had to break the video up into 3 parts, and they are each about 8mins long.
***Grrrr... for some reason the sound is ahead of the actual video. Sorry, not sure why it's like that? I need to figure out this whole You Tube junk! or maybe it's just me?.. It seems to lag about 15-20 seconds? ***
Video 1: You Tube link (may be better quality?) And yes, I totally give you all the finger, egh.. sorry, lol.. it was obviously an accident!
Video 2 - You Tube Link
Video 3 - You Tube Link 
OK, that's it, enjoy!! Hopefully the lagging isn't too bad?... Any questions, just ask in a comment and I will reply in the comments for you!