Today is the day I get to share my CHA Echo Park booth projects with you all! Yes, I have been talking about it a lot on my FACEBOOK PAGE and now I can stop yappin' about it and actually show you all! After I tell you all a little story..
I was contacted on July 6th asking if I would be able to design some projects for Echo Park Paper to show at CHA... I wish you all could have seen my face when I read that email! I was SO stinkin' excited and could not believe they would contact ME, let alone read my blog.. I mean, who am I?...
I replied back saying I would.. I mean, WHO would turn that down? A crazy person, that's who! Then, before I heard back about my deadline, I thought to myself, "Gee, isn't CHA THIS month?".. Ummm, yeah. *panic begins to set in*.... I was told that they needed my projects by the 14th.. *gulp*... AND they still needed to ship me the paper! *double gulp*.... I told myself, "You've got this, Tamara!"... (I really did say that.... Psssh! Don't try to pretend you don't talk to yourself!) So, I got a big box of awesomeness on July 8th in the evening and immediately got busy! As soon as I saw the GORGEOUS paper I was inspired to create! In TWO FULL DAYS I got done.. I was pretty amazed! I shipped them all out on July 11th.. which is an AMAZING day for me.. Not only did I get done super fast and knew my projects would arrive in time, but that evening I was asked to be on their in house design team!
Just imagine, if you will, a crazy woman running through the house screaming like a half pig, half duck.. being strangled. Kinda like, "Quuuuuack.. ah-ah-ah-ah *gasp*..snort, ah- *gasp* ah-ahhhh-.. Quuuuack".. "Snort"...
My husband asked what my problem was.. and you know what?.. If HE thinks I'm having an 'issue' then it's seriously disturbing!
So yeah, I am excited to say the least! It's a lot different than any other DT I've ever been on and I don't want to get into too many details, but it's super-doooper! If you want to meet the other SUPER talented design team members, head on over to the BLOG!
And you get something out of it too.. what?.. PAPER KIT GIVEAWAY'S! Yes, I will be giving away some of the newest kits here on my good ol' blogity-blog here and there! Yeah, buddy! And I get to give one away NOW!! (See below my projects for details!)
OK.. now that I got that outta my system, time for CHA projects and to get down to business!
*breathe in.. breathe out*.... (Seriously, I'm such a child! I feel like such a celebrity right now... LOL! )
So, first off, if you're not already following Echo Park's BLOG or 'like' their Facebook Page, then you might have missed out on peeks of some bea-U-tiful new lines! I'm talking about Victoria Gardens and Apothecary Emporium! "Hellooo000oo, GORGEOUS!"
These were two of the three lines I got to work with! I knew right when I saw Apothecary Emporium on Facebook that I wanted to make some test tube type of project with them. I had two tubes laying around and decided to make my own SVG file to hold them (which will be a free download during my Blogiversary Bash) and decorate it with the cool stickers that come in the kit! I will admit, I don't usually use stickers, just never really thought to. But these were SO fun!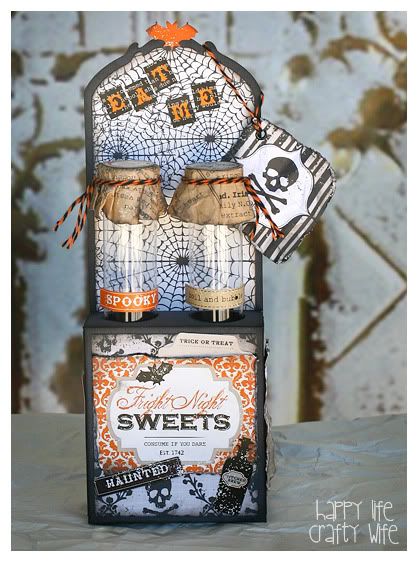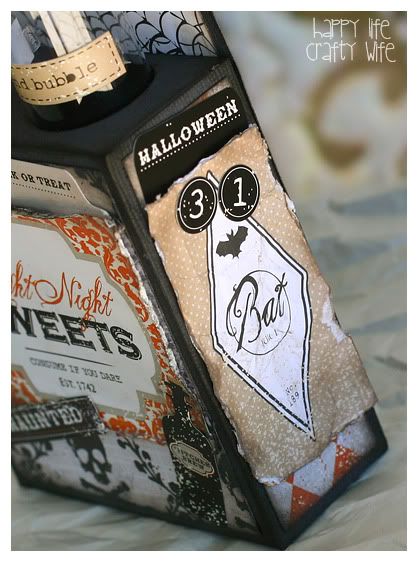 I used a lot of pewter ink from Color Box! A great color for Halloween stuff (So is black, white and silver!)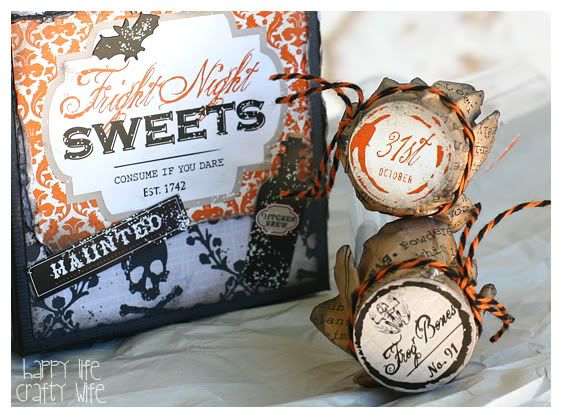 Those little stickers fit just right on top of the test tubes!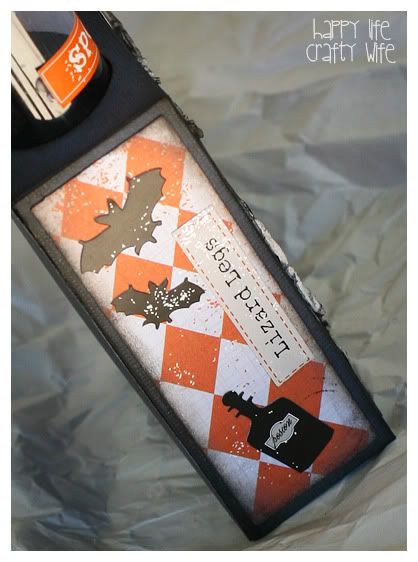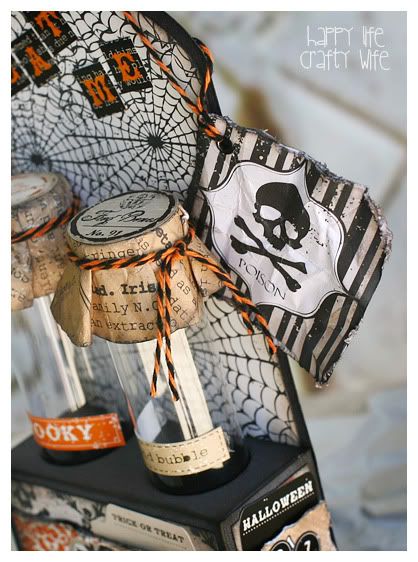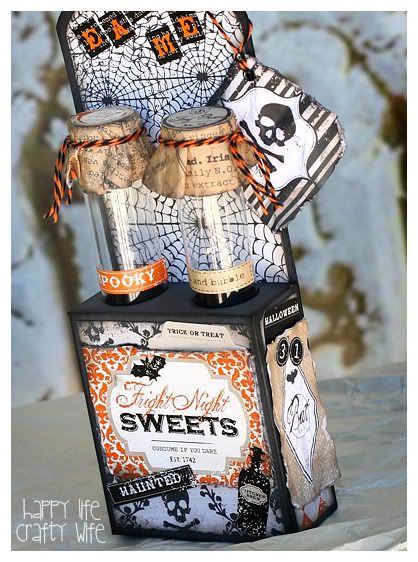 I stuck some of the stickers on cardstock and cut them out. I then distressed and inked the edges. You can do so much with these stickers alone! These would be great with some Reese's Pieces or black and orange jelly beans in them! The twine shown is from the awesome Trendy Twine! How awesome is that black and orange?! I think it's a limited edition, so you might want to go snag some while you can! Go like her Facebook page and let her know I sent ya!
Think that's neat? Well, this is my FAVORITE! I had visions of doing something like this since LAST Halloween when I first started crafting, I just had no idea where to start! I tackled this and LOVE how it came out. I was sad to ship this one off, for sure! I will have to make another one!.. or at least the hat! The hat is a paper mache cone that I got wet and shaped at the top. I dried it and Mod Podged the paper to it!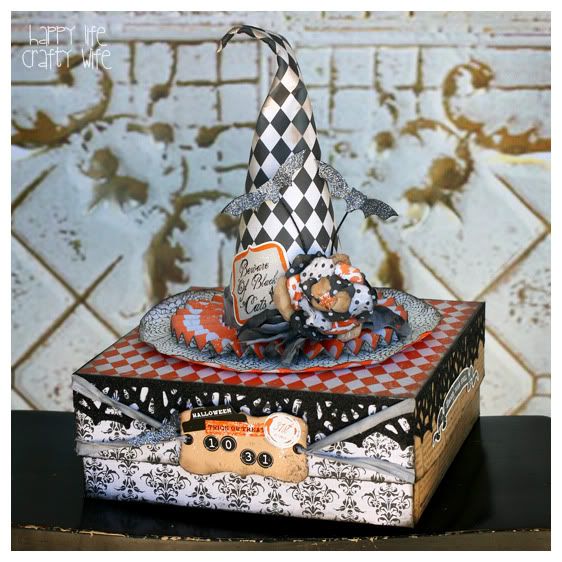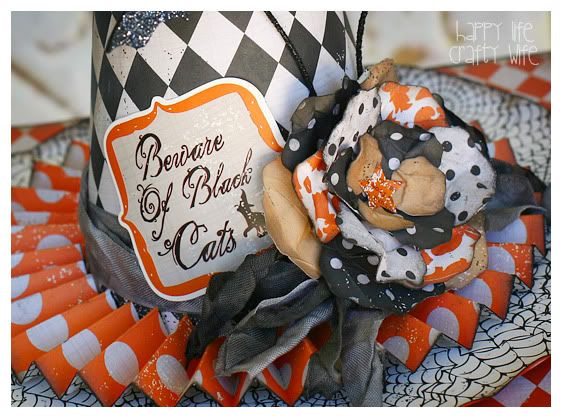 I hope you like that vintage crinkle ribbon! I will be giving some away for my Blogiversary!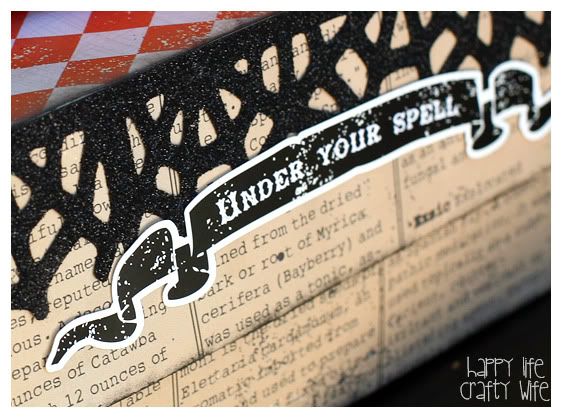 I used Recollections brand glitter and it works just as nicely as the Martha Stewart stuff...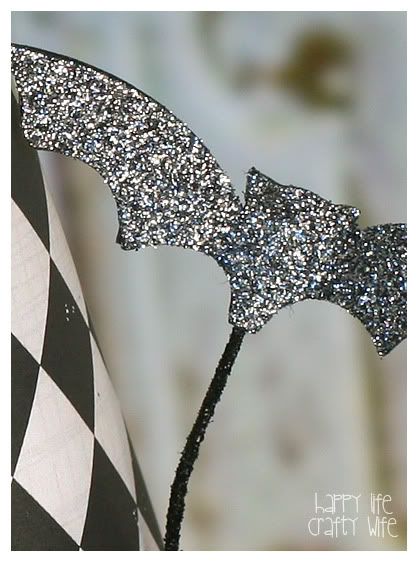 The photo above shows how I added glitter to the wire holding the bats. It looks awesome in person with black and silver glitter on various elements!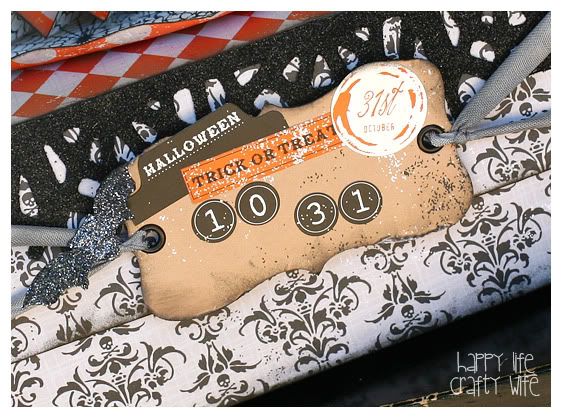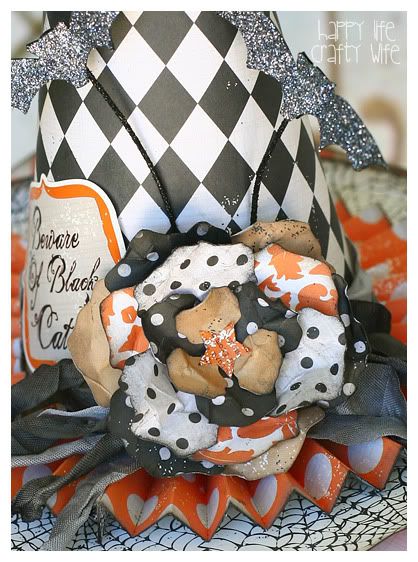 I will share tips on how I made this in the next few days! :) It's a lot of fun!
Next up, is the Victoria Gardens collection. When I first saw this I had so many ideas coming to me and wasn't sure what I wanted to do. Then, I remembered a PDF file I saw awhile back to make a very small carousel.. that was it! I HAD to make a vintage looking paper carousel! The PDF was way too small to make any sort of template from so I created my own files in Sure Cuts a Lot from the basic shapes library and a mix of SVG files and created this...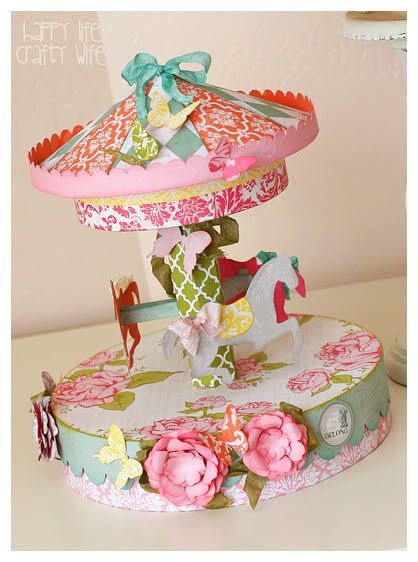 Can I just say I am dang proud of this beauty!? It's a GIFT BOX! The top section and bottom section are both boxes. I built this thing as if I was building myself a house! lol.. I was very careful with placement and measurements. The center column is stuffed with packing paper and dowel rods for support. I actually had a lot more flowers and things cut out and realized if I went 'overboard' it would have been too much since it was such a large piece as is. Again.... 98% of this was made with the SCAL basic shapes library! I will share more about how I made this in a few days.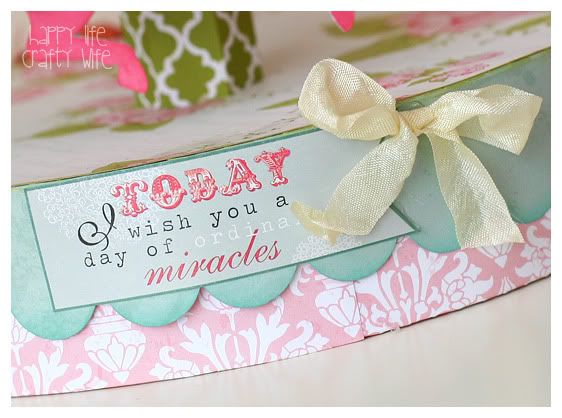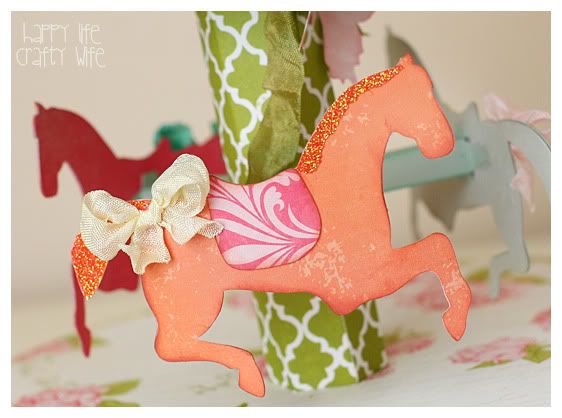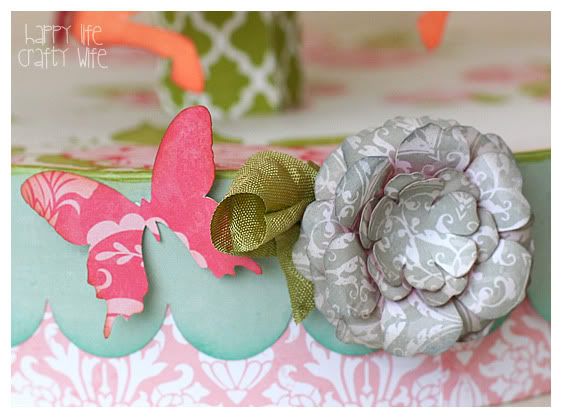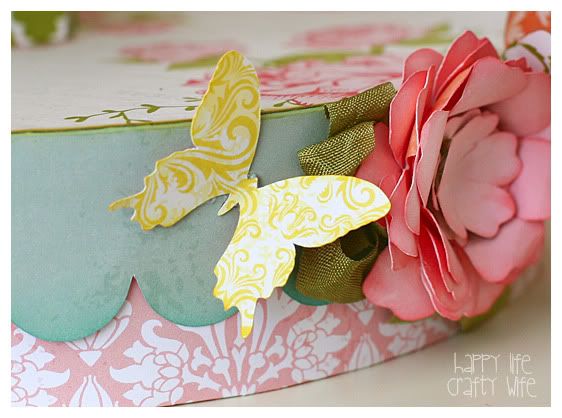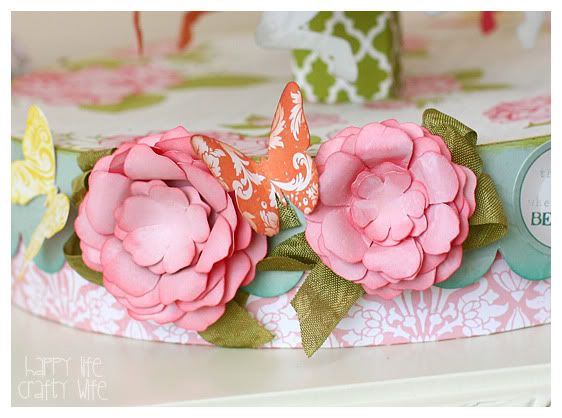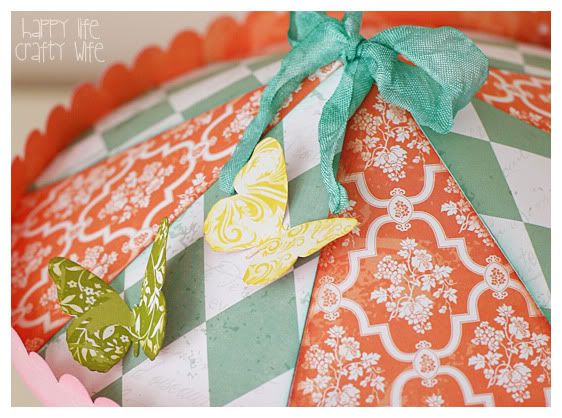 Don't those papers totally MAKE the project?.. That roof was a total pain to make! I had to use some rusty math skills to create it!
And, last but not least! The 'secret' paper I got to work with! Happy Days... how fun and cute are these papers?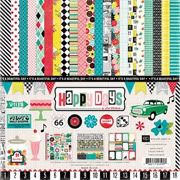 I decided to go fairly simple with a neat 3D project. Sadly, I didn't get very many photos of this since I got sidetracked and then ran out of time. When I saw these papers I immediately thought 'diner'.. So, I made an 'EAT' sign with 3D letters!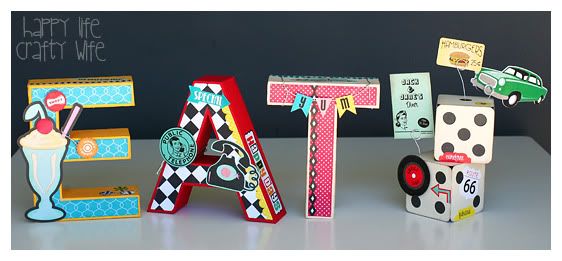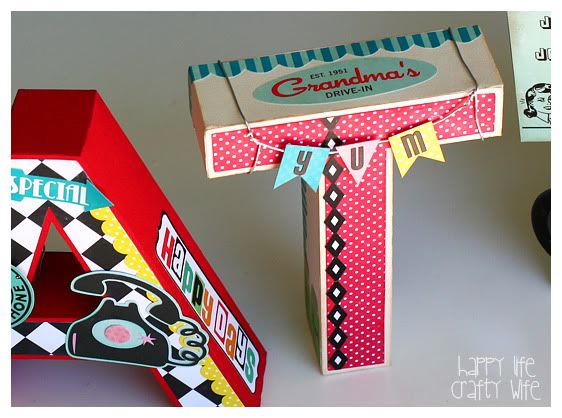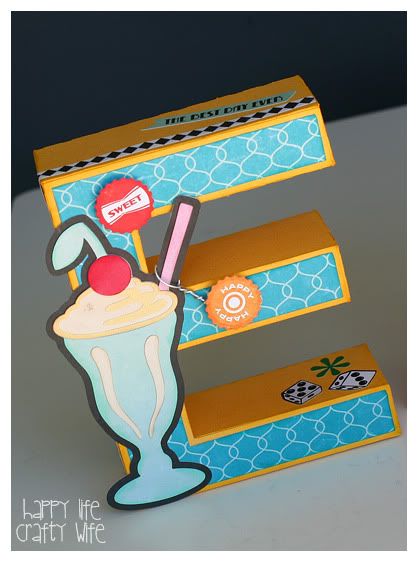 The dice were a last minute add for that extra something special. You can make a menu and use this to hold it, cool, huh?! Most of this project is made from files at SVG Cuts!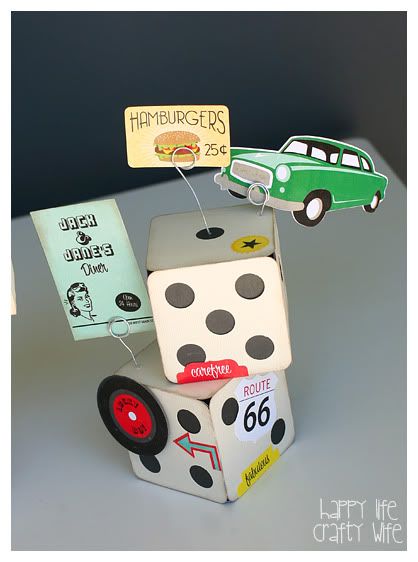 And there you have it! Again, I worked so hard on these! Most of you who read my blog know I love to make 3D projects... and that hat box and carousel really show 'me'. I don't usually have time to go all out like I like to.. I hope I got a few of you to say, "WOW!".. :) I had so much fun working on these! I love starting a project and just going for it! And then to be picked up for Echo Park's design team after all this! I am truly blessed! This past *almost* first year of paper crafting has been AMAZING for me!
Now, for my giveaway...
Wait, did I mention I am now on ECHO PARK PAPER'S DESIGN TEAM??!!... I did? Oh, well.. in case you forgot or something.. *wink*
*insert big cheesy grin here*
OK.. PAPER TIME!
Let's begin the happy dance!!!
First of all, If you are just now seeing the new lines here on my blog, here are the rest!  Pretty Christmas lines!
(These do not ship for awhile still, so you will not be able to win one of the Christmas lines.. YET!..)
Today I am giving away your choice of Happy Days, Apothecary Emporium OR Victoria Gardens! 
To enter and win all you have to do is comment on this post and tell me what your FAVORITE project of mine was and what new paper line you'd like to win!
Facebook - 'Like' me on FACEBOOK! I LOVE new followers and you will not want to miss upcoming projects and giveaways (some limited to Facebook only!) 
And if you want.. stop by Echo Park's Facebook Page and tell them what you thought of the new paper lines! I'm sure they love the positive feedback on their amazing products! Also, stop by their BLOG for more photos and CHA chatter and to meet the design team!
Thanks for getting through this looong blog post! I hope you enjoyed my projects!
Toodles!