Hello, friends!
You might have seen on my Facebook Page that I got the Sew Easy recently.. as in.. all of it, lol! (I had a feeling I would love it!) Here's the loot! Look at all those pretty colors!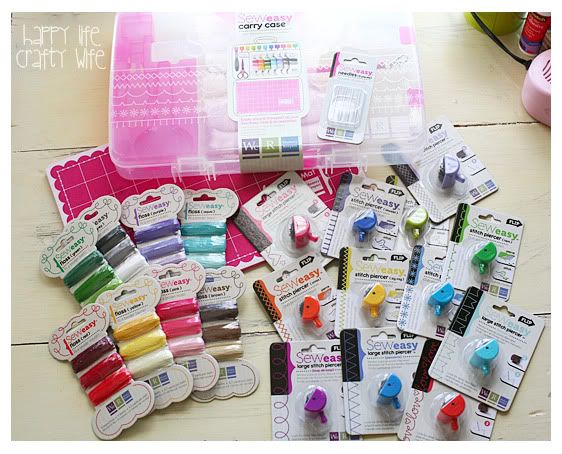 I was finally able to open it all up and get to playin'! Since my brain is in Halloween mode, I made a little Halloween giftbag! I didn't spend too much time on it, since I have to get my blogiversary projects done. I do love the way it came out! I wanted to add a tag and other little things, maybe later.
Here it is! My first project using the Sew Easy!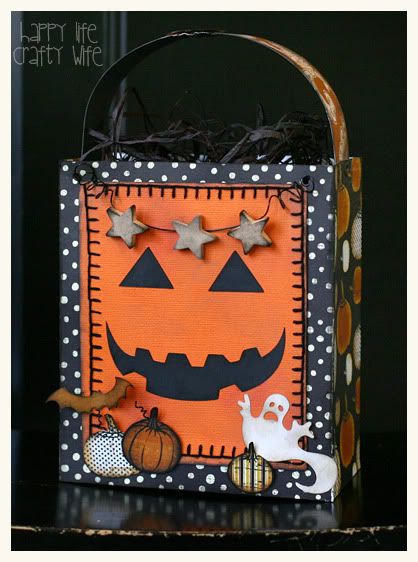 I've been adding eyelets to anything I can lately.. :)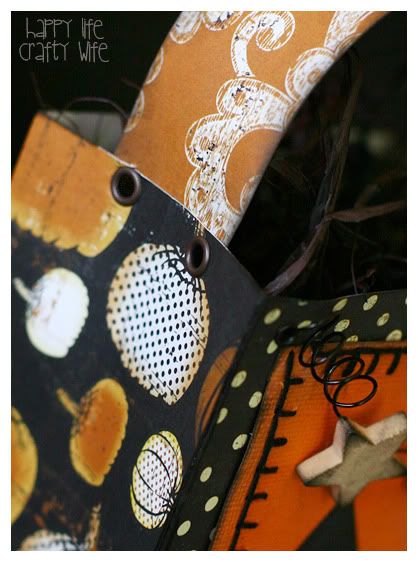 I picked up these little wood stars at Michaels the other day, wasn't sure what I would do with them at first. I think they are great for Halloween projects! I inked them up and hot glued them onto wire.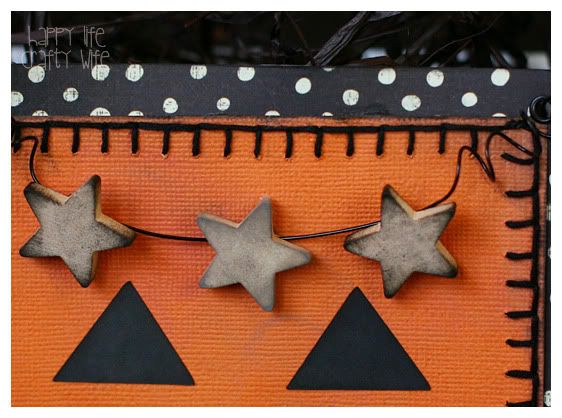 Yep, the stitching is a bit crooked on one side. That was the very first side I did and kinda messed up. I already had it inked with the jack-o-lantern face on it, so I didn't want to start over. It doesn't look too bad though.
A few thoughts on this product..
If you don't know certain stitches you might have to do a little research on the stitch you're trying to do. Like this one, called a blanket stitch. It's a little time consuming until you get the hang of it. I know how to blanket stitch by hand, but on the paper and how the stitch was done on the paper (not right on the edge) it took a little figuring out. I just sat in my recliner and hand stitched it, it was relaxing actually!
 NO, this does not come out like something would from a sewing machine. These are embroidery flosses! I actually like it because it stands out more.
The mat is a MUST HAVE! You need a bit of pressure to pierce through the paper, especially thicker paper like AC cardstock.
But yeah, super fun and easy to use if you are familiar with the more difficult stitches... if not, You Tube would be helpful!
I've got several more ideas already.. like little stocking cards around Christmas, etc. I might get creative and stitch on names!
I hope you all like my little bag! Now time for me to get over to You Tube and see if my videos for my Echo Park witch hat box are ready for you all! (they were lagging a bit, grrr..)
Talk to you all soon!