It's Christmas in July week at Paper Dolls!
I stayed with quick and simple for this project. I was pressed for time and sometimes simple is good! I've gotten so many comments/emails about my stuff being pretty to look at, but maybe too hard to make, etc. Sooo.. here's an easy and cute project!
Our SVG designer this week is Melissa from KaDoodle Bug Deisgns
I created some simple gift tags!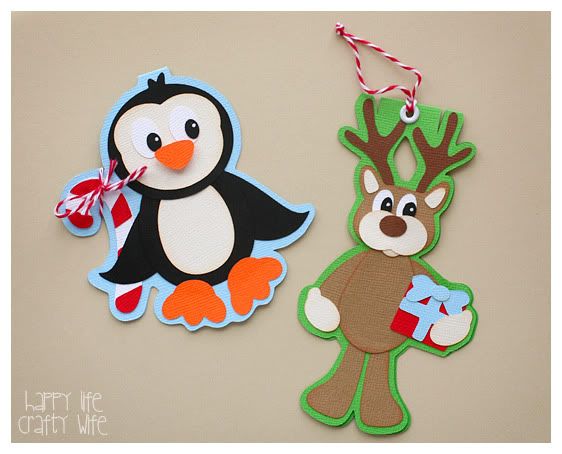 Whaaaat.... whose blog are you on? Only ONE picture to show?...
Yep.. Dontcha' worry.. tomorrow when I have the Echo Park CHA project posts up.. Oh, yeah.. I will make up for my lack of pictures today, lol! You've been warned!
These were SUPER easy! However, explaining them might be difficult. Best thing is to play around with the shapes in your SVG cutting software and just try and get it right. I really wish I took a screen shot of them when I had them layed out in SCAL.
First, you will open the file you want to use.. Let's say the penguin.
Then, you will kinda layer him in SCAL (or MTC, etc.) as the penguin would look already cut out and assembled. Select all and click 'weld'.
I then added a 1/4" rounded blackout shadow. You will make a copy of this, flip it, and then line it up where you want to card to open from. Overlap slighty. Select all and click 'weld'. That will be your card base! (Confused yet.. if so, and you'd like to see how this is done, reply below and if at least 5 people need a visual, I will do a little video for ya!)
Then you just cut out the penguin and adhere to the front of the tag! You can add twine, eyelets, etc. It's important to size your penguin (or whatever cut you're using) first so you can make sure that it's the right size when you make the tag afterwards. What I did was after I assembled my penguin on my mat, I made a copy onto another 'page' in SCAL and went from there.
Clear as mud?.. lol
Thanks for looking! Make sure you come back tomorrow to see some fun awesome projects! I AM SOOO EXCITED!!!! Whoo!
Toodles!