I got a chance to play around with my Silhouette today! I did another fun and simple print and cut project! I am just LOVING this feature! I made this card in less than 30 minutes after everything was cut out! *high five*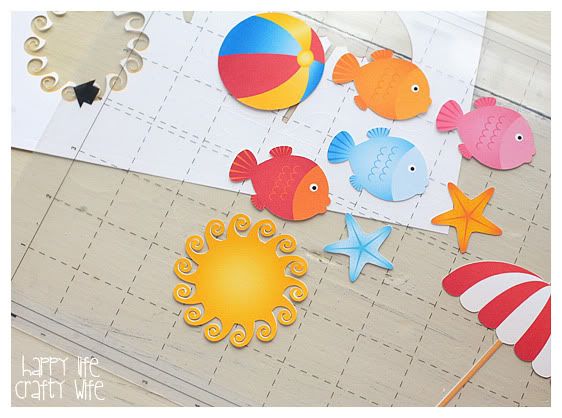 I am going to do a basic print and cut tutorial soon for anyone interested. It's a little different than my last tutorial. I know there are plenty out there.. but there isn't one from ME.. lol!
Well, I don't have much time to chit chat right now... Awww, don't be sad.. You will be exposed to more of my randomness soon enough!  I am working on a FUN project for the Summer SVG Shindig blog hop AND getting a cute project done for this coming Monday over at Paper Dolls! 
So.. on to the card! This is a basic 5x7" card base.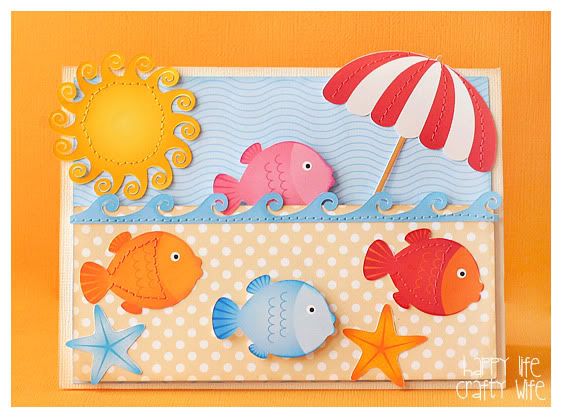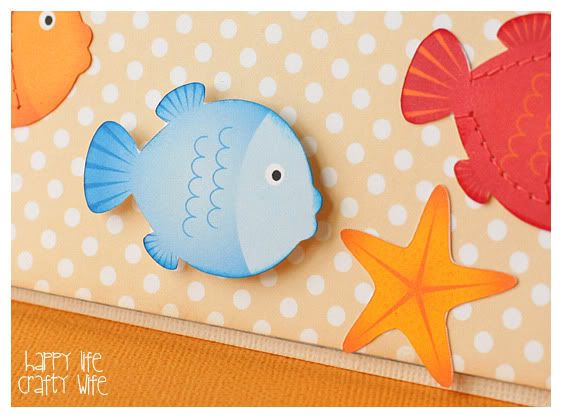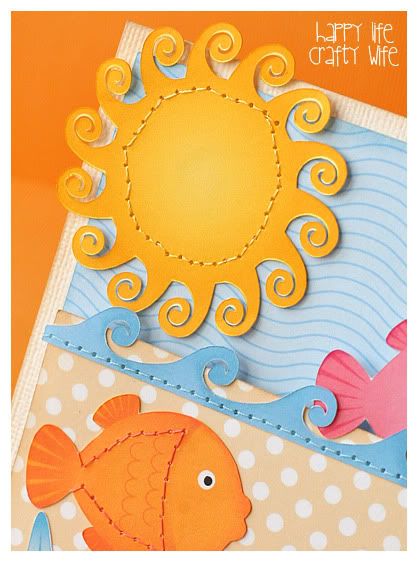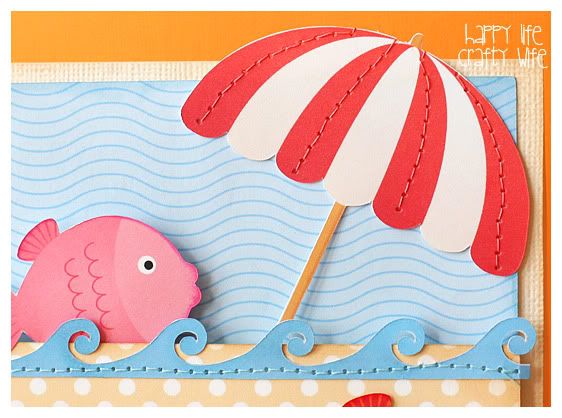 Cuteness?.. Yup! This was SO simple, but the printed graphics add so much to the look of the card.
If you want to make one, you're in luck! Because I'm nice enough to tell ya how to do it!..... No, please.. no need to thank me!
You will want to snag THIS set from JazzyPatterns on Etsy! *If it's sold out, just go to her shop and look for it. It's called 'Fun at the Beach'*
In the Silhouette Studio I sized them to the following sizes:
Fish - 1.930w
Sun - 2.500w
Umbrella - 3.000w
Starfish - 1.300w
The card is a 5x7 with the printable paper trimmed and layered over it. The 'wave' trim was print and cut as sized, however, it will hang off of the mat. This is fine, just go ahead and print and cut. :)
That's it! I added some stitching and inking and used foam squares to give some depth.
If you are unsure how to print and cut, stay tuned!
Now, time for the bonus random Cricut project! I am still buying cartridges, even though most people who read my blog are kinda anti 'bug' now since the lawsuits. I personally don't give a crud, and I like all those cute cartridges! When cricutmachine.com had their recent sale, I picked up a couple new cartridges, one being the Disney Toy Story one! So cute! My son is SO into Buzz Lightyear! And although he has tons of Buzz toys all over the place, I knew he would love this one that mama made! When he woke up from his nap he was so excited to see this guy on my desk!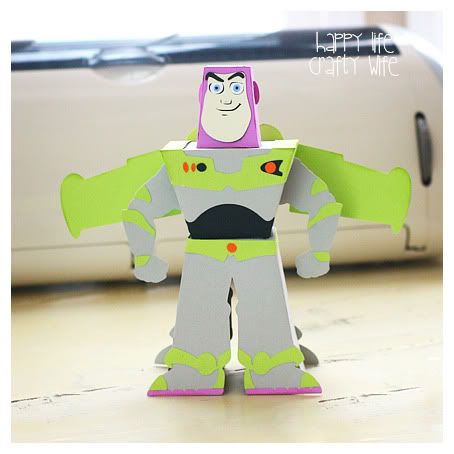 I mean, he IS pretty exciting! And a total pain in the butt! (like any man, really..) LOL! I cut everything out, and kinda stared at it for a bit. It took about an hour to assemble. Well worth it.. until he had it in his hands for 10 minutes.. he pulled the wings off. *thud* SERIOUSLY, CHILD!!! I took Buzz away to fix him and asked Austin (my son) if he can live in Mommy's craft area.. he said, "OK.. but where is him's bed?!" 
 Have a great weekend, friends!