I really can't believe how fast this summer.. well, this YEAR is going by! Before I know it, I'm going to be shopping for Christmas presents!
I am already short on time to make the decorations I wanted. As soon as I saw the SVG Cuts USA collection, I knew I'd make everything in that set! So fun! I finally started on these letters, oh boy, what a challenge! I like to think I am pretty good at figuring things out on my own, but that is so not the case. I had to make the 'S' 3 times before it was perfect! First time, I didn't watch the video.. second time it looked like my 3yo son made it.. third time, I got it! You really have to be patient and work slowly. I made the 'A' first, which was super easy.. so I kinda though that this whole project would be easy peasy. I plan on making letters for my kiddos rooms with their 3D Letters set... Alannah, Autumn and AuStin... Something tells me Austin might get left out, LOL!
Anyhow, I will share the banner and such when it's done... but for now, here are my USA letters. I did it a bit differently than SVG Cuts has it. I LOVE the children silhouette so I used that. Plus, I added some 'fireworks'. I actually planned to add a little more, but I think this is enough. If I added anymore it would just be too much.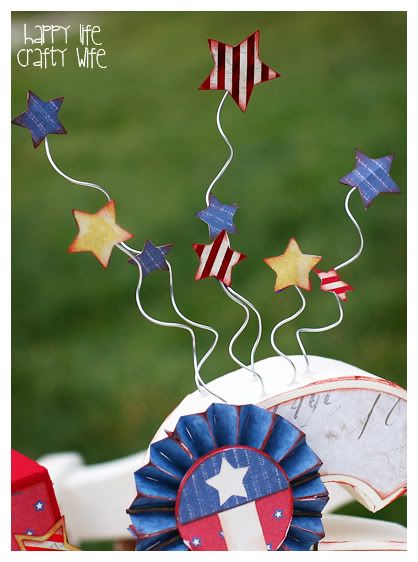 The 'fireworks' were made by poking little holes through the top with a craft knife and twisting jewelry wire a bit and then adding on the stars, which are in the SCAL or MTC shapes library. Put some hot glue on the end of the wire and stick it through the hole. Hold it for a bit while it cools. If you make the holes too big, it won't work.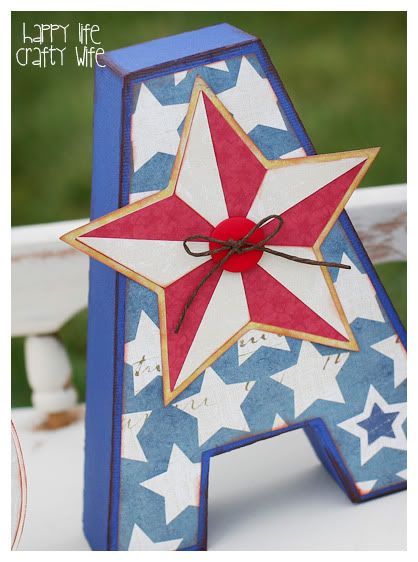 I really like the brown inking with this! Gives it a more vintage look!
After I made this I wished I had edited the SVG file and welded on one more girl to make my 3 kiddos.. darn!
You likey? I kept everything as sized when opened in SCAL. Even the children silhouette from the card file! The star fireworks are all cut at 1.25, 1.00, .85 and .70"..
Oh, and the paper is 'Americana' by K&Company! Love it!
 I hope you all are having a great week! I will announce winners from the SVG Summer Shindig blog hop sometime today! After this weekend I am hoping to have more crafting time. I have a project to share plus a tutorial for it.. along with a cute baby shower banner I have planned and more! And of course, more Silhouette fun! :)
Toodles!