Whoo-hoo! It's my first design team project for My Craft Spot! This weeks challenge is 'Bundle of Joy' and Kimberly is giving away 5 spools of bakers twine! Please stop on by her blog and check it out!
Here is my project! I did something simple and cute with her awesome stamps and gorgeous crinkle ribbon! These would be great for baby shower favors!
Now, I wish I could tell you were I found the onesie SVG file, it was a freebie and now I can't find it anywhere! But you can make this work with any onesie file or Cricut cartridge cut! I just love this particular file with the ruffle sleeves! :)
I opened my SVG file in SCAL and welded two onesies together. I also added holes to pull my ribbon through to tie the bow. You can add little bags of mints, chocolate, etc. inside and the onesie will fold over it. Super easy! I only had jelly beans.. so that is what I used! lol..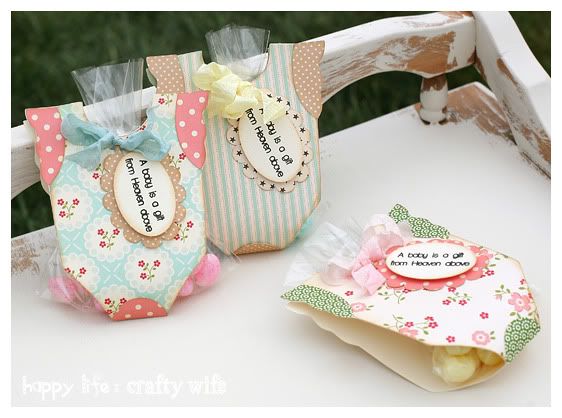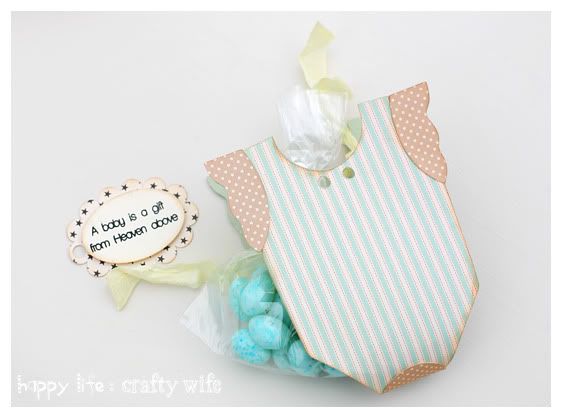 I hope you like them! I had fun making them with those pretty papers! The papers are a mix of October Afternoon Thrift Store and some from October Afternoon 5 & Dime.
OK, I'm out! I was standing on my feet cooking Easter dinner all day.. Mmmm.. But, I am TIRED and have some testing I have to get done tomorrow (bleh!) so this will be kept short and sweet! Check back in a few days, I will have a little teacher appreciation project to share plus a design team project for RAH Scrapbooking! Yippie!
Toodles!