So, while I was busy making my design team project for Fantabulous Cricut I got sidetracked when I remembered a kit I saw LAST year. It was a kit with little cups and precut ears, nose, etc. to glue on and make a bunny container. I started to brainstorm and decided to whip one up real quick. This took me no time at all to put together once I cut my pieces. So fun and simple.. I can totally see making a pleathora of these just because I can whip them out so fast! You know the saying 'Multiply like rabbits.." LOL!
Here is today's paper cuteness!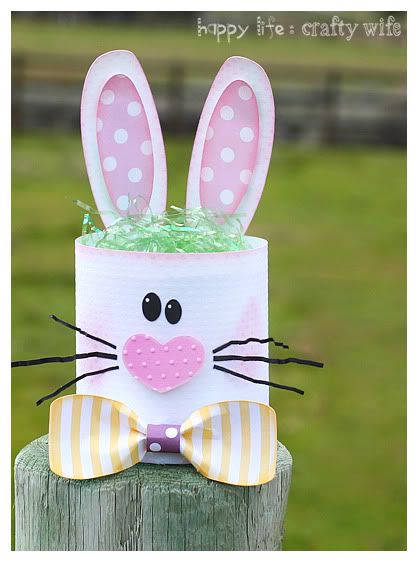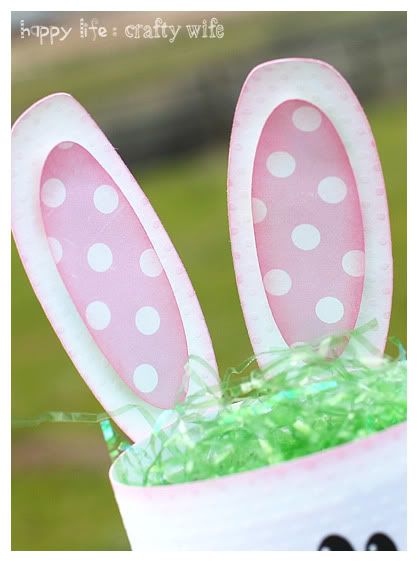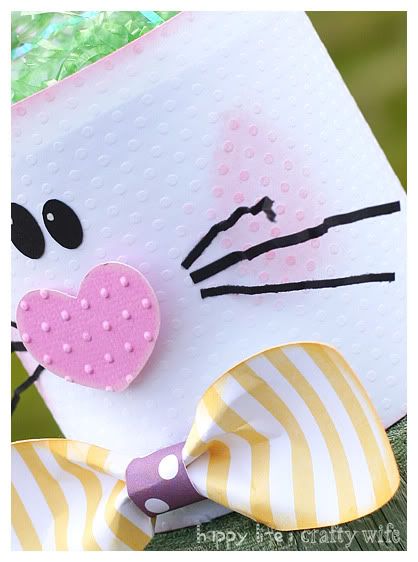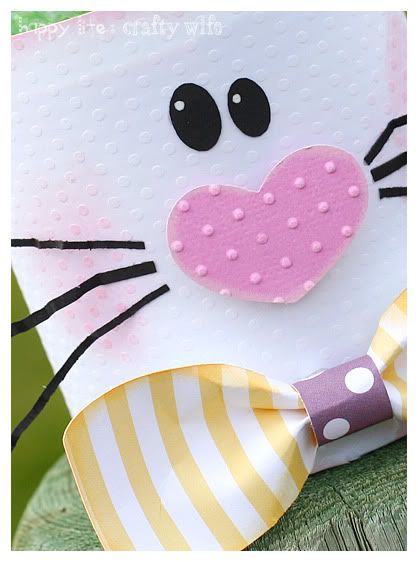 Best of all.. I used Sure Cuts a Lot basic shapes.. that's it!
Here's how: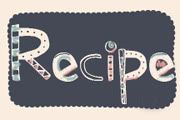 You will need Sure Cuts a Lot.. not sure if Make The Cut has a basic shapes library? If you use Cricut design studio, I am sure you can figure this out with some cartridge shaes! Heck, you could even cut shapes out by hand, folks! *high five* You will also need a container of some sort. I used a breadcrumb container so the cut sizes I give you are going by that.
First, cut your container down to about 3" tall.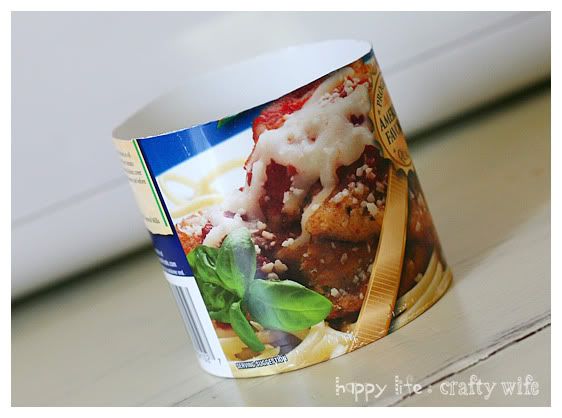 Hmm, I have a sudden craving for chicken parmesean!
Anyhow.. cut a piece of paper 3.5" high and 11" wide. Wrap it around the container gluing as you go. I used hot glue... and I burnt myself.. and my glue gun got stuck to my comfy velour pants. Yes, I am totally messy and spazzy (is that a word? LOL!) when I craft...
...... and yes, I wear velour pants. They're comfy, Mmm-kay?!
Moving on...
Did you cut your paper yet?.. Get on it!
Ink up the edges if you want.. I think it really helps the project stand out a bit more. Plain ol' white was a little boring.
Cut and assemble -
ALL SHAPES CAN BE FOUND IN THE SCAL LIBRARY UNDER 'BASIC SHAPES'
Ears: Oval shape, uncheck 'keep proportions' size 2 ovals at 4.00h and 1.50w. The inside of the ears are 2.730h and 1.00w.
Nose: Rounded heart shape, uncheck 'keep proportions' size at 1.715w and 1.097h.
Bow: Rounded square shape, uncheck 'keep proportions' size at 4.00w and 1.50h. Kinda crinkle it in the middle a bit. Cut a piece of paper at half an inch wide and 1.5" long. This will wrap around the crinkled part of the bow.
Eyes: Two ovals, uncheck 'keep proportions' size one at .3355 and .500h. Size the other at .291w and .433h. I used my white ink pen to add a catchlight in the eye. Glossy accents over the eyes will look great!
For the whiskars I just cut thin strips with my scissors... crinkle them up and glue them on!
To create pink cheeks, use your ink pad or dab some ink on a Q-tip and rub it on. You can also use paper chalk.
I am thinking of having my girls make one for each of their teachers and I will fill them with some yummy cookies! It's the perfect size to stack cookies in.
As always, I hope you enjoyed this little tutorial! If so, please click the 'LIKE' button for Facebook!
Annnnd.. I really need to do a post with some questions answered and other random things I've been meaning to post. Maybe today? I promise I'm not ignoring all your emails and comment questions.. OK.. maybe YOUR'S! lol j/k. I'm really not that mean... really. OK.. I have nothing to do tonight.. soooo.. I will be back with a long rambling post for you all that have been waiting to hear back from me.
And can I just whine a minute?.. Of course I can.. it's my blog.. neener-neener!
It's snowing.. again! I kid you not, we've gotten more snow since 'spring' started than we have all winter! Ok.. maybe not.. but it's really close to it! I am beyond ready for warmer weather... only because I have some darling dresses and sandals I am dying to put on my girls! LOL! Go away snow!!
Toodles!