*I was singing to myself as I wrote my title*
Sooooo... want to make a super cute and easy Valentine's Day decoration? (I am pretty sure I've mentioned in my blog a time or two that I am sick of Valentine's Day crafts.. but.. I lied.) This is something the kiddos will totally enjoy making.. I think so anyways, lol. My girls are at school and Austin would just eat the tape, glue, and paper and then manage chop a finger off somehow... so...yeah. I had fun making this!
And the best part? Ya don't even need a Cricut! (But, you should get one.. because it's awesome!) You can just cut out 9" long strips at 1/2" wide and there ya go.
But... for my Cricut peeps that have SCAL (or something of the sort) you can get this done a lot faster! And since I should be working on my eBay auctions instead of playing with paper, I was all about getting done fast! (I eBay my kiddos small clothes twice a year.. it's a total pain and takes forever but I like the cash when it's all said and done).
This is how you do this in SCAL (Sure Cuts A Lot) Not sure if there is a way you can do this in Design Studio or not?.. Anyhoot..
Open SCAL and open a 12x12 mat. (or 6x12 if you have a smaller Cricut) and go to your shapes window (Window>Shapes) and select the rectangle. In properties uncheck 'Keep Proportions' and enter 9.000 wide and .500 high. Fill up your mat with as many as you can (copy paste) and then you are ready to cut!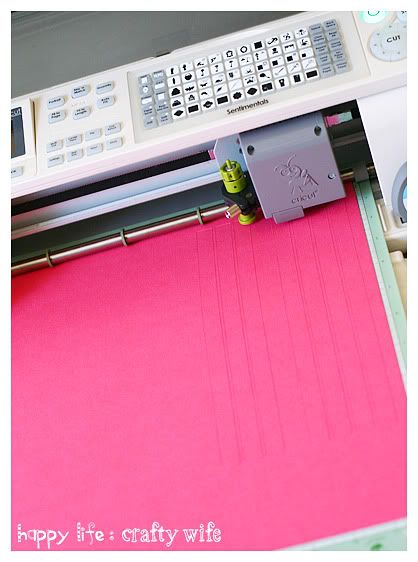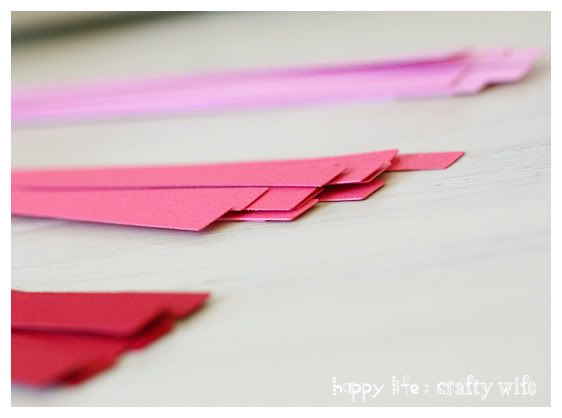 Cut as many colors as you'd like..
Man.. I really wish I had a Starbucks coffee right now.. random, I know.. but yikes I got a craving!.
OK, now fold your strips in half.. like so.
(this is where I would like two extra hands to take pictures to show you all... but, I don't.. ) You need to fold the two ends in to form a heart shape. Use glue if you want.. but it slows ya down having to hold them to dry.. or, you can whip out your hair clips like I do..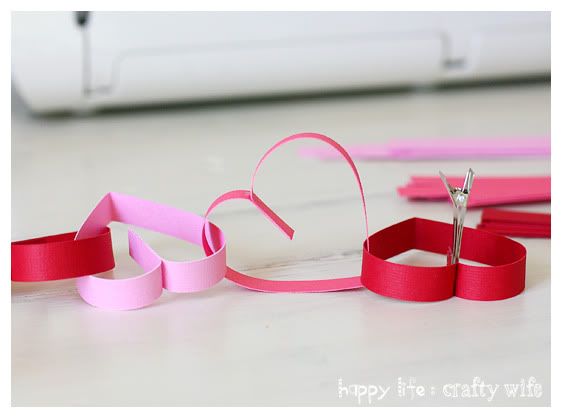 But, even that gets irritating. Get yourself some double sided tape. Works wonders and holds it really well! :) Then get busy making your chain! If you're like me you will forget to attach a heart or two.. or 7 *ahem* to your chain before you tape it. Then you will grumble to yourself how dumb you are and then think you can take it apart to save your paper heart.. and nope.. it rips.. then you remind yourself how dumb you are.. again.
Not saying that happened or anything.. *whistles*
TA-DA!!!! Are you impressed? Yes, I know you are!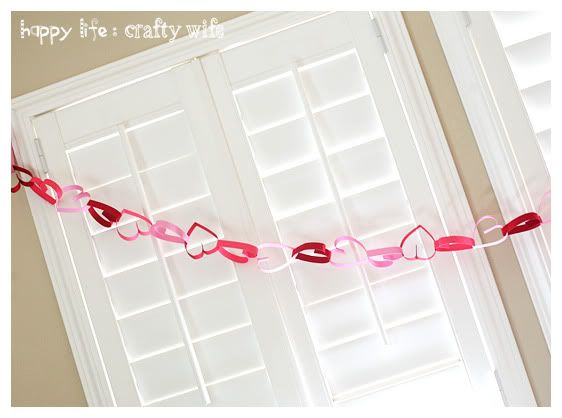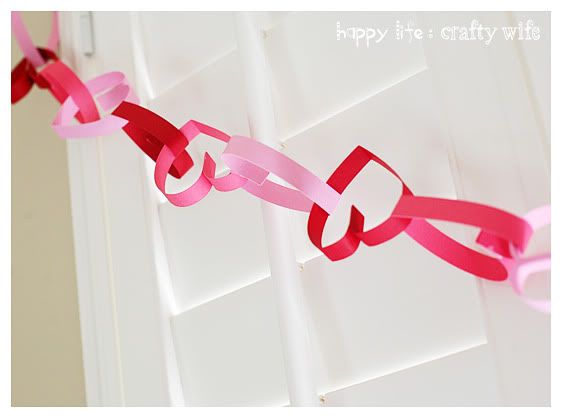 Cute.. easy... If you have your kiddos make it then it will keep them outta your hair for a good 10-15 minutes (score!) Have fun with it!