Have you ever heard of The Elf on the Shelf? It's a creepy little stalker elf that comes out for before Christmas. The elf 'watches' the kiddos all day to make sure they are being good. Then, he comes 'alive' at night and reports to Santa. When he returns to your house he appears 'magically' in another spot! Some kids might be freaked out by the idea of a doll coming alive at night but my girls are totally into this elf thing! Especially Alannah!
He arrived in one of our windows the day after Thanksgiving..
It's only been a few days and I am running out of ideas on where to put him! I am trying to keep him out of reach. The kids are not suppose to touch him or the 'magic' goes away..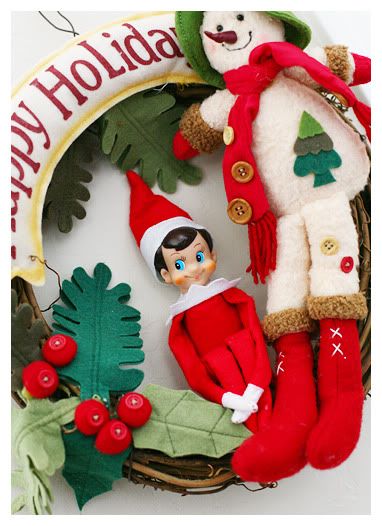 Now, if that's not an "I wanna eat you" look in his eyes, I dunno what is! You would think they would make the little intruder a bit cuter. I will admit, he is a freaky looking little thing.. but, the kids love 'Cliff' and that's all that matters :)