Hey all! I have been so busy the past few days, but I managed to squeeze out this cute card! I had the toy files cut out for about a week now.. just didn't have time to finish the card. Well, I still don't have time, LOL! I decided to put it together for a tutorial for Paper Dolls, but since I mixed SVG files and files in the Silhouette store, I decided to pass on using it for a tutorial. So, I'm throwing it up on my blog! Are you excited?.. of course you are!
Before I show you the cuteness, did ya know I'm having a GIVEAWAY when I reach 1,000 'likes'? I really want to see 1,000 'likes' by the end of June!.. can WE do it? Yes, WE CAN! I'd love ya forever (not in 'that' way..lol..) if you'd like my page, suggest my page to your friends, post about my giveaway on your blog/Facebook page! Wanna know what I'm giving away? One person will win a stack of Echo Park SPLASH paper.. and another will win a Crop-a-Dile! I recently discovered the CaD and I feel EVERY paper crafter should have one! I've gone eyelet crazy since getting it! Anyhow, click HERE for my Facebook page!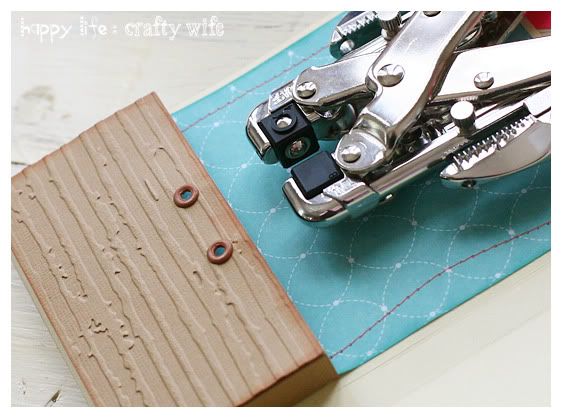 And there ya have it.. a peek of my new card!
Want to see more...
Well... You know what to do...
Send me $100.00 and I will email you a picture..
A small one...
Maybe...
Or, I could be a scammer...
Maybe...
Just MAYBE...
This isn't MY card at all...
You think?
*GASP*
Is Happy Life, Crafty Wife a...
FRAUD?!
What if I am actually an old hairy man, sitting around in undies..
DIRTY undies.. ew *barf*
... perhaps with a lingering smell of bad B.O.?... (Wait, of course it's bad.. I mean, have you ever heard of pleasant B.O?..)
And maybe I just got done munching on chips, so I have chip crumbs in my chest hair..
*SHIVERS*
"DANG-IT, TAMARA!!! SHOW US THIS DARN CARD ALREADY!!!!!!!"
OK.. ok.. sheesh!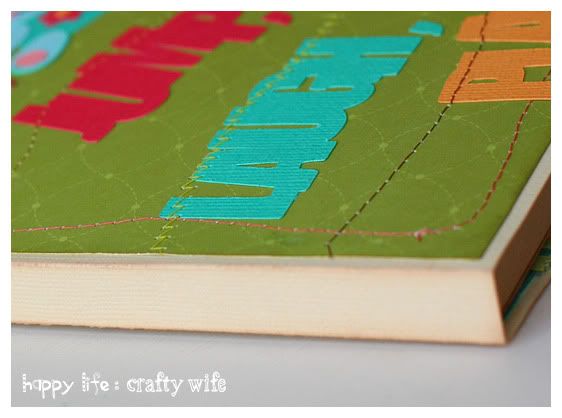 "Ummm, Tamara.. That's not a card, it's a friggin' BOOK!"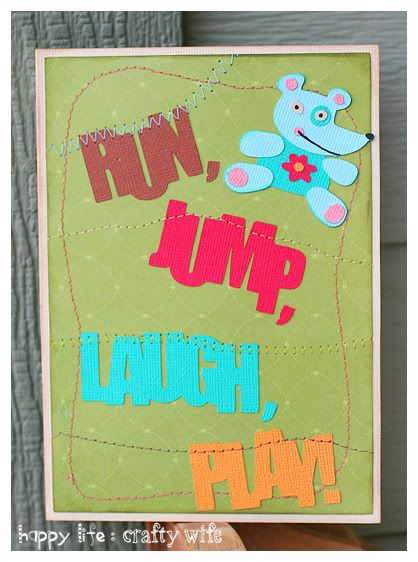 Yes.. it's a little thick... like me. (Bwahahaha... true story!.. *sigh*) But.. sometimes I don't even use envelopes for my cards.. I will stick them right inside a giftbag! That is what I will do with this biggie!
I always like simple fronts.. and awesome insides. (ew.. does 'awesome insides' sound weird to anyone else?...)
"Duuude.. your card has awesome insides!"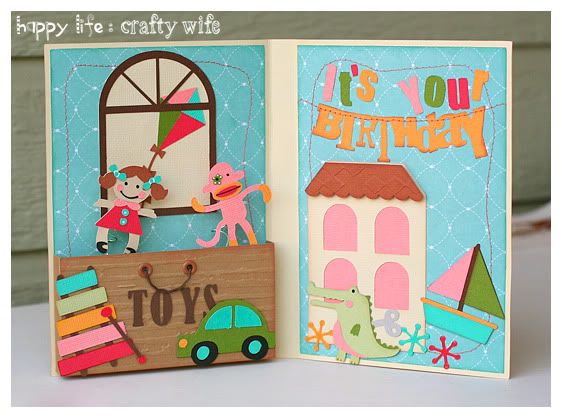 Is that awesome enough insides for ya?... Maybe not.. 'cause you just might be SUPER awesome.. but to me, this is pretty darn cute!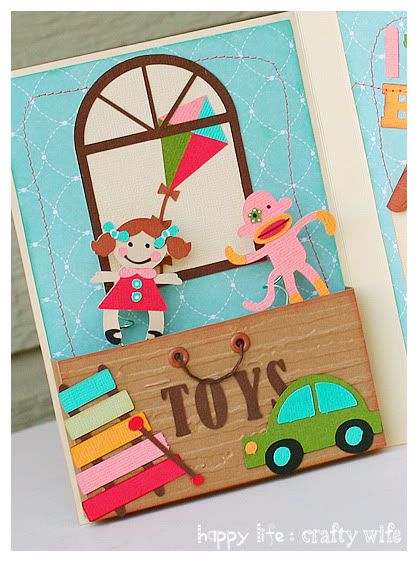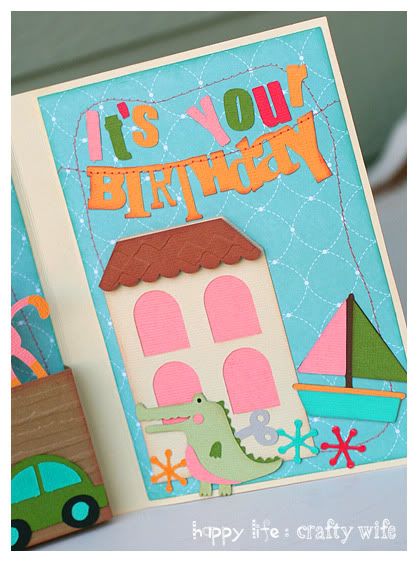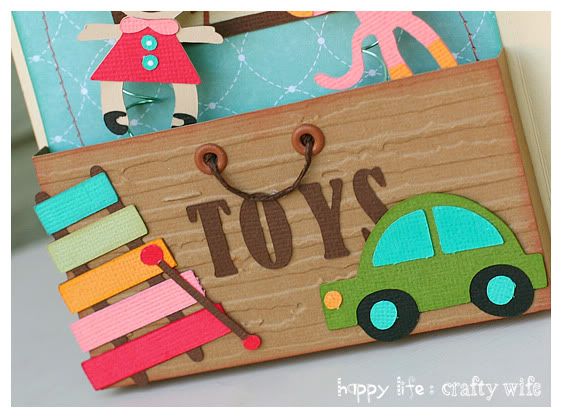 If you have a Silhouette, you're in luck! Because I used a mix of SVG files and Silhouette files. If you use another cutting machine, you can use the SVG's I mention.. (Lettering Delights) and maybe find some others to work in place of the Silhouette's files?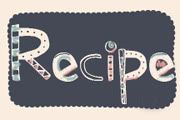 1).Cut a card base 10.50w x 7.00h. Score it so there is a 'bind' .50" wide.. So, score at 5" and then 5.50".
2). Cut 3 rectangles sized to 4.75w x 6.75h. For my card I used 2 blue prints and one green printed paper from DCWV's 'Blossom' stack.
3).I created the 'toy box' SVG for ya.. Size it to 6.728w. Download Toybox_HLCW As usual, my blog likes to be a jerk and not let some people download my files. If you're one of the 'lucky' ones.. email me and I will forward it to you! Score as shown: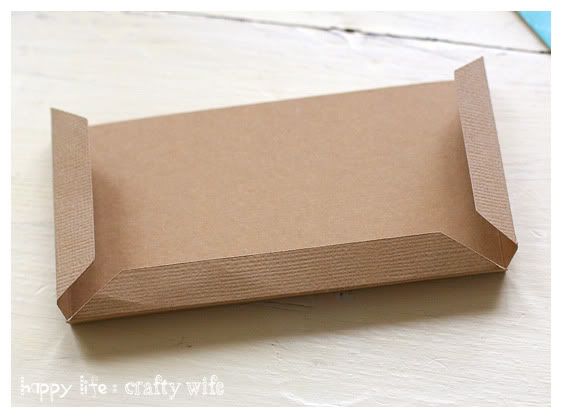 Adhere it around one of your rectangles like this: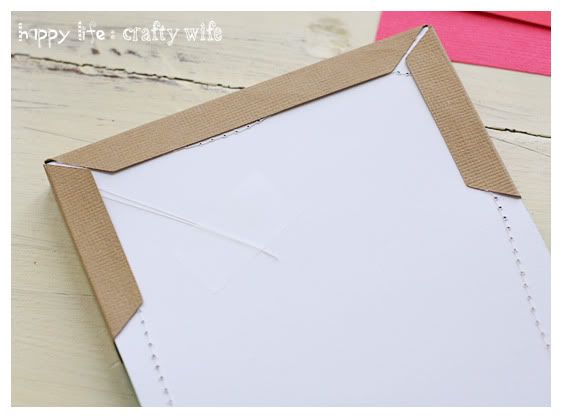 4). Cut a rectangle at 4.750w x 2.50h and emboss if you'd like. Adhere it to the front of the box. This just makes it a little more sturdy!
5). Add your eyelets.Yay for Crop-a-Dile!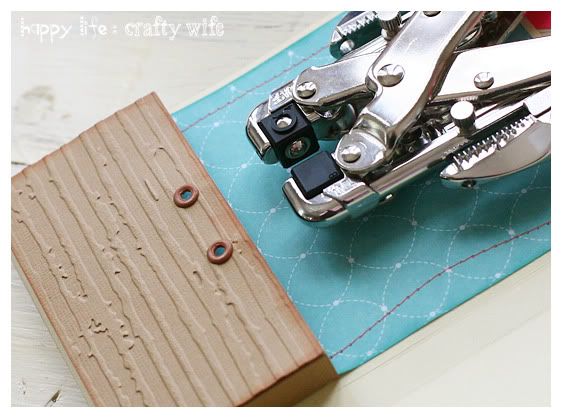 Now you're going to cut all those itty bitty pieces of paper! :) Fun!
I decided to stick with the color scheme that Lettering Delights used for their graphics! I always use American Crafts cardstock for my solids!
SVG files:
Lettering Delights - Let's Play (If you don't have an account, sign up first for the freebies!)
Doll - 2.00"h
Sock Monkey - 2.25"h
Bear - 2.00"h
Boat - 2.00"h
Jacks - (break apart and size each one to .734w)
Alligator  - 1.50"h
Fonts:
Impact (free) was used for all lettering except for 'birthday' and 'toys' (I forgot what I used for toys.. Sorry, Charlie!)
Silhouette Cuts:
 'house' frame - To size this I broke it apart.. then layered the roof over the main house file.. and then sized them to 4.005"h. I deleted the flowers.
Window card - broke it apart and just use the front window part. Cut at 3.50"h. I then trimed out the 'lines' through the window.
'Birthday' - 4.00"w
That's it! I didn't do much embossing, but it works well! I did some inking and stitching! You will probably be seeing a lot of stitching from me since I moved my craft area around and made room for my sewing machine to be out.
To add the monkey and doll to the inside of the toy box, I used 20 gauge jewelry wire and hot glued it in. very easy and looks so cute!
I hope you like my little card.. and wow, this is a LONG post!
*poke.... poke... WHACK* Wake up!! I'm not done yet..
I just wanted to confirm.. for those that have doubts.. or maybe a bit confused.. I am NOT.. I repeat... NOT a hairy man sitting around in undies.. But I do have chips in my chest hairs..
No.. really..
;)
Toodles!