Well.. I've got ONE of 'em! lol..
This week at Paper Dolls we are making FLIP FLOP BOXES! How fun! When I saw this file from Eleanor of SVG Shop I was so excited! I LIVE in flip flops in the summer! I'm picky though! They either have to be bright colored with big ol' flowers on the top.. or my Reef Fannings! <~~~~ Those are what I have for this summer. I get a new pair every year! The most COMFORTABLE flip flops, ever! They hug your feet nicely and don't really 'flop'.... or 'flip'.. so.. are they still 'flip flops?... Or, are they.. SANDALS?.. lol.
*blink - blink*
Wait.. am I selling flip flops here.. or am I trying to show you my project for Paper Dolls?
(really though, check those sandals out!)
Anyhow..
Here is my take on the flip flop box! I went for a luau theme that would be GREAT for party favors! This was easy to make (for a 3D project), even better!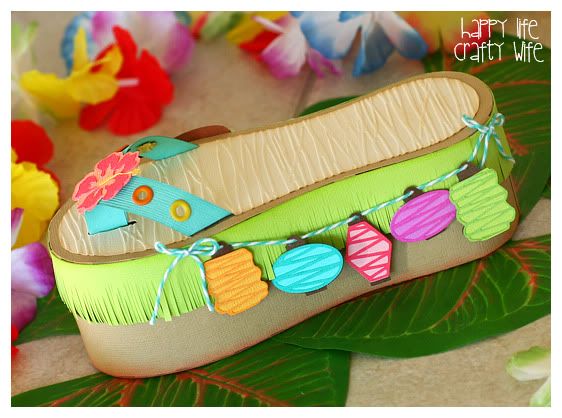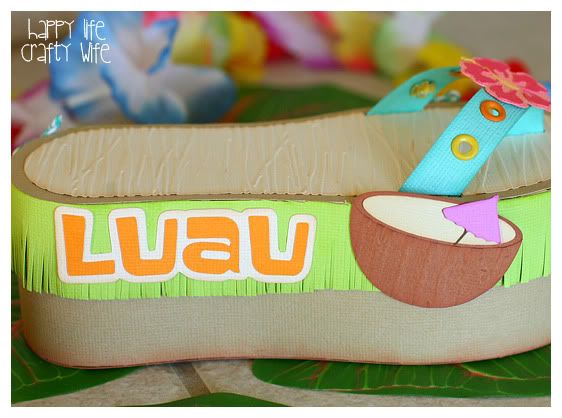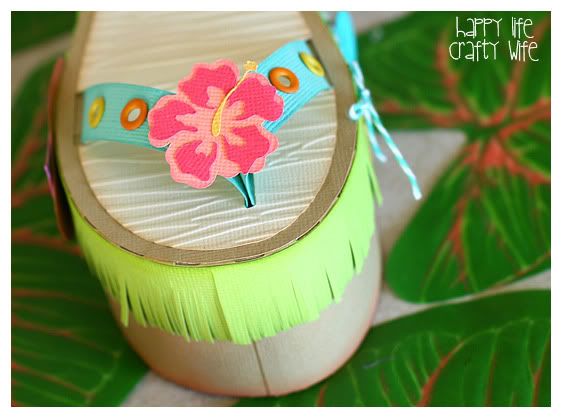 And not only is the Crop-a-Dile fun to say.. it's pretty awesome, too! Like my eyeltets?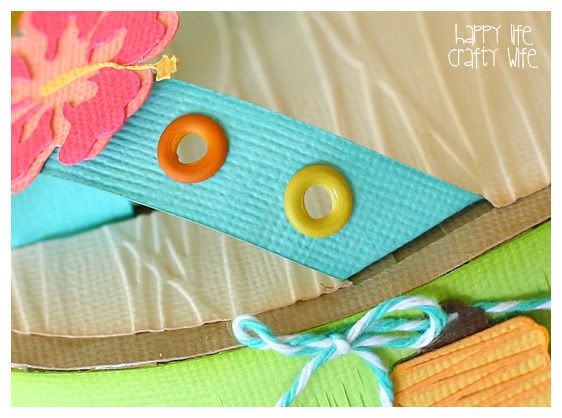 Wanna make one like mine?... Head on over to Tamara's shoe factory with your best glue.. and let's get busy!
You can download the box from the Paper Dolls Blog.. so scootch on over there and get it!
I kept my boxed as pre-sized.
To decorate my flippy floppy, I used SVG Attic's Luau collection!
So pretty! You gotta check out her work! (Jessica of SVG Attic). She's just getting started, but from what I have seen from her, she's got great stuff! Her files are easy to use, too! Also, be sure to 'like' her Facebook, and let her know I sent ya!
Here are the sizes I used from the Luau collection:
Hibiscus - 1.40w
Lanterns - 'round:1.063w  'lantern: .904w   'tall: 1.151w
Luau Caption - 4.542w
Coconut drink - 2.396w
That's it! I didn't want to do too much to the flip flop because I didn't want it to be overkill. I think the little touches I added were just right for this, though!
For the off white 'inner' part of the sandal, I just opened up another flop flop piece.. and unchecked 'keep proportions' and kinda smoohed it a bit to fit how I wanted.. I used an x-acto knife to cut the spaces for the straps. Then I inked and embossed it.. love the way it came out! 
I strung the lanterns with some twine and tied little bows. You could do this with someone's name for a gift!
The 'grass' trim is just two strips of paper cut to 1.25" and frayed by hand with scissors. Super easy to do!
Welp, I hope you have enjoyed this one! I will be pretty quiet this week as I finish up the stuff for the SVG Summer Shindig Blop Hop! I can't wait!
Head on over to Paper Dolls to see our guest designers projects.. and hopefully create something to enter in our challenge!
Have a great week!