On the menu today... escargot and mushrooms!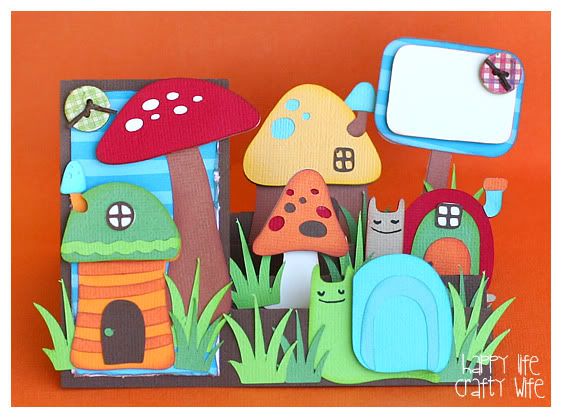 Yummy! :)
So, the other night I was pouting because my Silly-butt was being.. a butt! (Silly-butt is what I am calling my Silhouette.. lol) The blade went el' crap-o on me for whatever reason. I was told it's 'faulty'... hmmm.. I think it's the weight loss fairies punishing me for eating that candy bar the day before. What-ev.. so yeah, I made a card with my Cricut.. bleh! I am totally spoiled by the Silhouette's awesome cutting ability now. You will see in my close-ups the crap job the Cricut did on my blades of grass. And before you bug lovers start going off about it doing that because it's an SVG.. yada, yada.. nada, chicka's... I used my Create a Critter cartridge! How's that bowl of soup for ya?.. Hmmph! (Don't worry.. I am a closet bug lover, too.. can't stop buyin' those cartridges! Ack!)
Anyhow, I got a new blade in and was practically tripping over myself getting from the mailbox to my Silhouette to toss the new blade in and fire her up! IT WORKED!!! Whew! So that's good.. and I will be able to start sharing some more more silly-butt projects soon!
So.. without anymore rambling.. here's my latest card! I know.. you already saw it, but in case you forgot who's blog you're on... 'Happy Life.. Crafty Wife'.. which means, you get bombarded with too many pictures. You love me for it, you know it!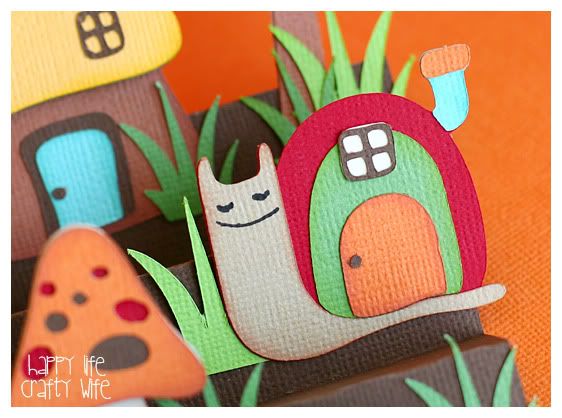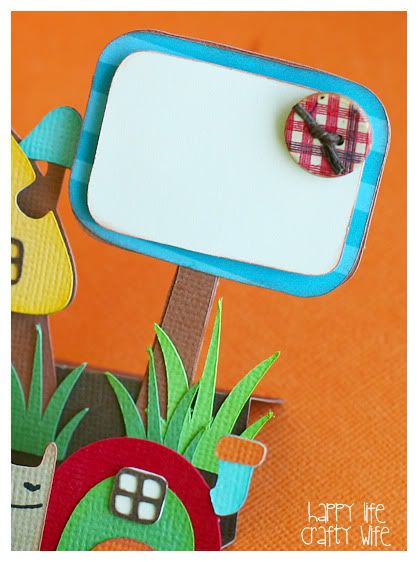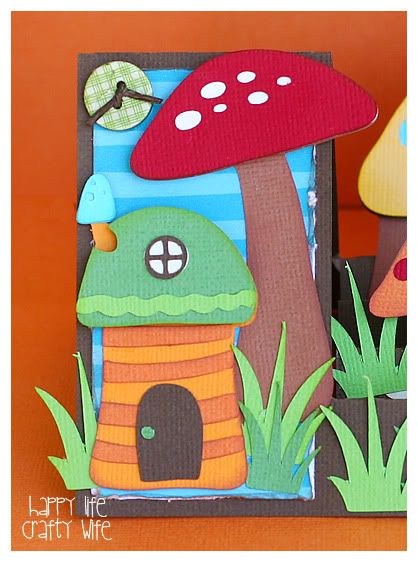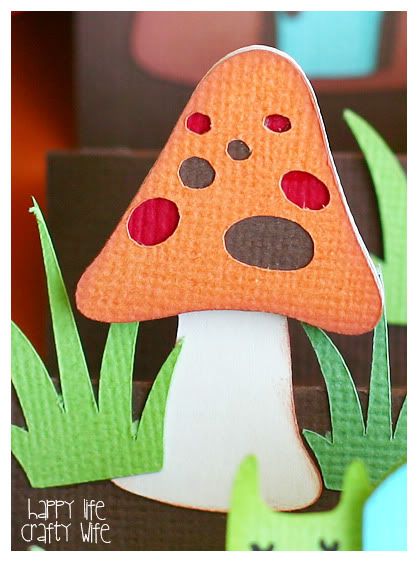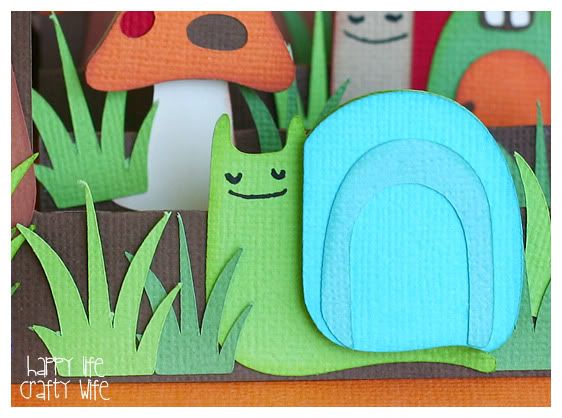 OK, seriously.. how stinkin' cute are those SVG's...? It just makes you wanna grab a salt shaker and go at 'em! (If you don't know what salt does to snails.. it's time to do a lil' Google search...)
I know.. I'm so mean. I actually did that to a snail before...and felt totally guilty about it. I was a punk teenager, so really, I could have been out doing much worse, but instead.. I was dumping salt on snails in my free time! LOL!
I didn't stamp anything on the sign just yet.. I'm waiting for the perfect stamp to go there ;)
Oh, yeah.. the recipe.. oy.. maybe just for this post we won't call it a recipe...
Umm.. ok.. tutorial.. yes, the tutorial.. here ya go darlin'!
It's pretty simple! Only one SVG collection and a step card base!
Now, go find yourself a standard step card base. SVG Cuts has theone I used. 
The cute SVG's are from the fabulous Lettering Delights <~~~~~ do not click unless you plan to empty your bank account due to overwhelming cuteness.. actually, yes.. click the darn link! I'm an affiliate! LOL! (psssst.. they have a summer sale going on for summer themed SVG's! So check it out!) I used the No Place Like Home set! I also used one sheet of the digital paper to match HERE
 Here are the sizes I cut:
Basic rectangle shape in SCAL or MTC sized to 1.929w x 3.738h. This is what I used the printed paper for.
-01.svg - 2.75h
-09.svg - 3.25h
-11.svg - 3.00h
-03.svg - 1.85h
-04.svg - 1.75h
-08.svg - 2.00h
-02.svg - 2.50h
That's it! Grass can be used from any old grass cut. I used the Create a Critter cartridge grass at 1" and 3/4" tall.
I hope you like it.. if you don't.. I will send my crazy flesh eating snail after you!
What.. you think I'm kidding?...
"Flesh eating snail, Tamara... seriously?"
Umm.. seriously!!
What... he missed his rabies vaccination!