Whoo-hoo! Did you all just LOVE that Blog Hop? So fun and so much talent! I appreciate all the sweet comments about my projects/work! You all make me SMILE! I will announce the winners for prizes on Wednesday.. and I am letting people enter my giveaway's until then as well! I know a lot of people are busy during the summer weekends, so I want you all to have a chance to enter, too! So, if you missed the hop this weekend, see the post below this one for giveaway info!
Anyhow, a lot of us used Lettering Delights files! Pretty cute, right? Well, they came out with single layer cuts in MULTIPLE formats! Super awesome, right? Check out the Simple Cuts bundle! For $49.00 you get 50 full sets! Whoo hoo! What's even better? If you place a small order, or download a freebie, you will get a 25% off code! YES! You can get 25% off that HUGE $49.00 set making it only $36.75! (You get these codes after every order and they are good for 30 days! So check your email for them if you've ordered recently!)
Here is a little peek at what the files look like.. remember, there are 50 sets total! PERFECT for vinyl work or simple cards!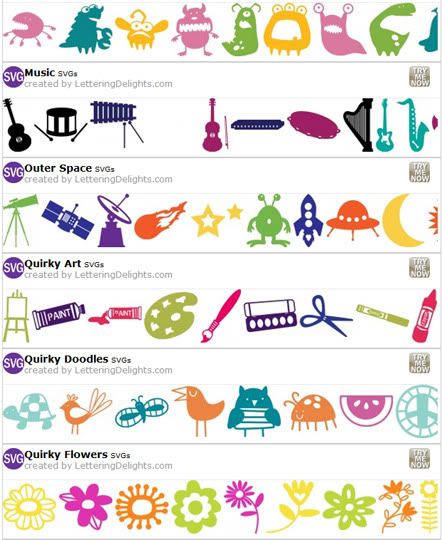 I'm going to put the space themed ones in my sons room.. and the monsters will go in my kiddos new monster themed bathroom! So many uses, really. Get yourself some Cut It's!
I was wanting to try these out, so I made some basic shapes cards today! SO EASY! I made all 3 of these in about 12 minutes from start to finish! Not bad for cute cards! You could make multiple cards very easily without much 'work'. I will be doing a shape card tutorial soon if anyone is interested!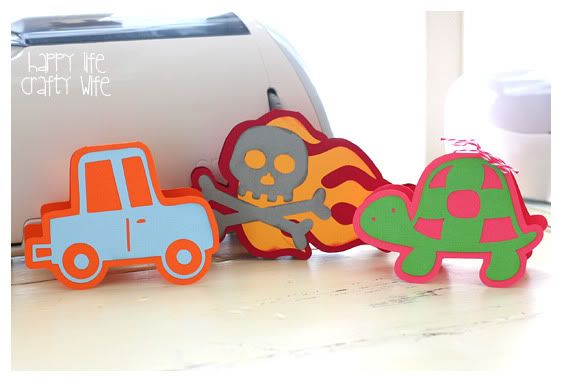 And let's not forget the SUMMER SALE! You can get almost all the files I used in my blog hop projects on sale right now for 50% off!
Now, onto the Silhouette! I know a lot of people have been buying them up, and if you were waiting for a deal, here's a new one! Over at Overstock.com you can get the Silhouette for $20.00 OFF! Use the code: 206572
Alrighty! I'm off! I am working on a blog post for Paper Dolls and I have a card to finish!
I hope you all had a great weekend!