Hellooooo! I hope all you mama's out there had a fabulous Mother's Day! I tried to relax.. that doesn't work very well with three kiddos and the hubby at work all day! My mom and 12 year old brother came up for the weekend, so I was entertaining them since Friday morning.. I.am.tired.
Well, it's another Monday.. and the last week before our small family vacation! We're going to Disneyland for a couple of days and to stay with and visit family! I can't wait! It will be nice to get away and relax.
Anyhow, here is a new design team project for ya! This week at My Craft Spot we have to 'bling it up' with something shiney.. My first thought was, "Shoot.. I don't have anything 'blingy'.." Soooo.. this shiney Glossy Accents used on the gumballs will have to work! :)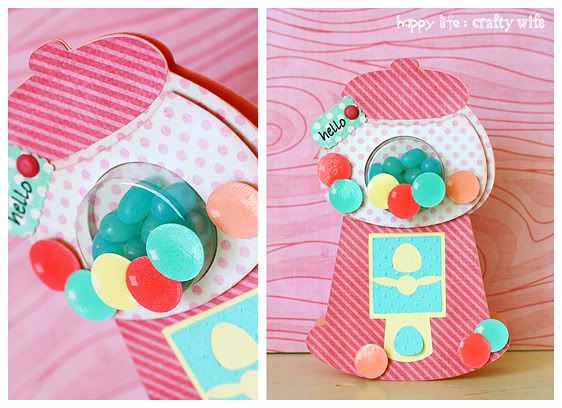 Yes, a gumball card with jelly beans in it.. don't judge me.. I know it would make more sense to have mini gumballs.. but.. I never make sense in the first place.. so with that, this actually makes sense.. to me. Make sense? ;)
Be sure to stop by Kimberly's blog to enter this week's challenge for a prize!
If you want to give this card a try.. then read on, sista' (and maybe a brutha' or two..?)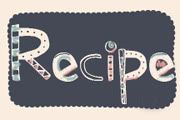 Whatcha' need :
SCAL or other cutting software. Afternoon at Aunt Elaine's SVG Collection and a sweet treat cup from Stampin Up. And of course all the good stuff.. paper, glue, glossy accents, wine and chocolate... ;)
I will list the SVG Cuts file names from the Aunt Elaine's collection and how many to cut.
- gumball_mid1 : Cut TWO as your card base for the front and back at 7.00h. Cut an additional one with your patterned paper and trim away the top and bottom so all you have left if the 'glass' part.  This will be what you will stick your sweet treat cup to. The two card bases will be adhered at the 'lid'. It helps to score them so they open and close easier.
- gumball_mid2 : Size to 7.00h and 'break apart' the files. Only cut the 'glass' part. Select a circle shape from your SCAL library and size it to 1.73w. Layer this over the center of the 'glass' section. DO NOT WELD.. just simply layer it over the top so when it cuts it will leave an opening to go over the sweet treat cup.
- gumball_top : Size to 7.00h
- gumball_mid3 : Size to 4.673w
 - Circles from the SCAL library are cut at .75 wide. These are the 'gumballs'.
Pretty simple and fun to make (and give!). The cute little 'hello' stamp is from My Craft Spot! This card would make anyone smile! You can also use it as a birthday party invitation!
Alright, friends.. stay awesome! I will talk to you all later!