I am such a goob. I was looking at this and realized it was missing something.. the ears! LOL! I will add them tomorrow and edit the SVG file! Whoops!
Baaaaaa.
Wanna make a cute sheep? If not, at least humour me by pretending you care about my little paper sheepie.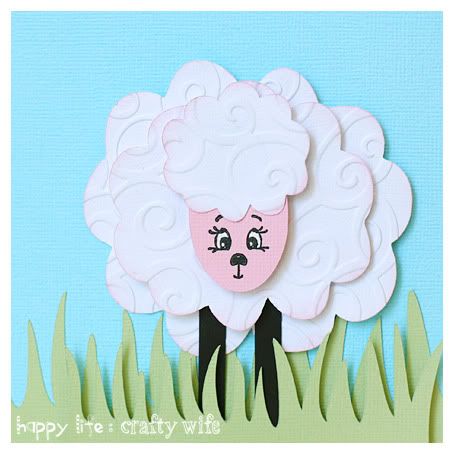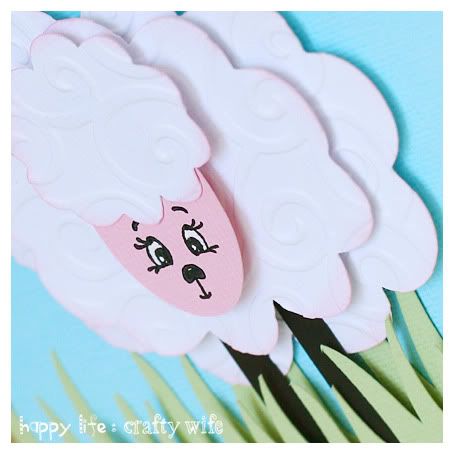 Baaaaaaaaaaaa.
:)
All you need is SCAL! I am sure you can use cartridges with a Gypsy to make one.. or even Design Studio if you have certain cartridges.. but, this is much faster. Especialy since I turned the shapes into SVG's that you can download Download Sheep_HappyLifeCraftyWife (if you have problems downloading just email me and will get it to ya!)
Or.. you can just do this :
Open you shapes library in SCAL.
Choose 'weather' and select the fluffy cloud shape (AKA - the shape of my mid-section). Uncheck 'keep proportions' and size 3 of them to the following - 4.00w/h, 3.25w/h and 1.800w/h (w/h means width and height)
Go into 'basic shapes' and select the oval. Size at 1.087w x 1.70h. Make sure you do not have 'keep proportions' checked.
Feet are made with the rounded rectangle. .30w and 2"h. Again, make sure you do not have 'keep proportions' checked.
Baaaaaaa.
You have a sheep!
I layered mine with 3d foam adhesive squares. The face was created using Peachy Keen stamps! I used a white gel pen to color in the eyes. The grass is from SVG Cuts Easter Morning Egghunt Collection
Enjoy! And a big thanks to my daughter Alannah's project she made in school that inspired this cheap sheep!
Click' like' below this post to share on Facebook!
Baaaaaaaaaaaaaa.