Oy..
Man, what a day! Some days I just don't know how I do it.. wait, yes I do, COFFEE! The past two days I have had coffee for dinner.. yup. Dinner. I feel like an old lady that can't keep up anymore! My 28th birthday is coming (On the 16th)... feels like it's time to find a plot at the graveyard! LOL.. yes, I exaggerate.. it keeps things exciting for me. You know the type, the person who always has to make things worse than they are? Yeah, that's me! Did I mention the world is coming to an end...... everyday? Sometimes more than once a day! Yep, believe it.
Anyhow.. today was a rough one. My oldest is a little.. uh... mouthy. I was over it, like... 2 years ago. She's turning 8 soon and she is convinced she is the boss. Her constant nagging at the little ones drives me batty. (I know those of you with several children are probably nodding your heads right now) So, needless to say the 3 little turds ran circles around me today. There was a point I sat on the couch and just kinda dazed off. Thank GOD it was beautiful outside today. I am pretty sure I asked the kids 2 or 3 times if they wanted to go outside and play with the puppy. Who knew that getting a new dog would work out so well for me?
I can usually keep it together and keep them busy with some sort of activity. Today's activity involved sugar.. x2. We took some cute photos this morning and they had these adooorable lip suckers. They are way cute and big.. big = lotsa sugar.. lotsa sugar + two girls = crazy. Crazy because they were acting crazy... and crazy because I thought I would be a 'cool' mom to 'just this once' let them have candy at.. ohhh.... 10am. Yes.... go on.. call CPS. They are having Hamburger Helper for dinner tonight too... Oooooh... double bad mommy today! Two strikes, baby!!
(Not the greatest pics... but aren't those lip suckers ca-uute?)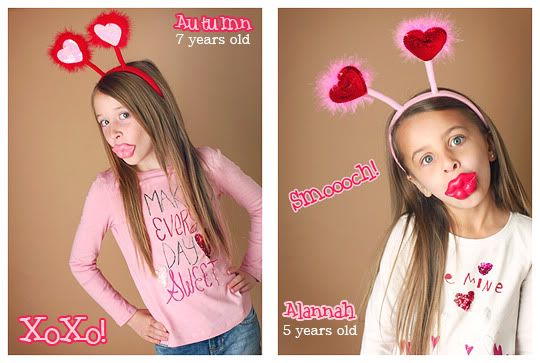 Anyhow.. after the sugar attack this morning we made white chocolate covered pretzel rods for Alannah's class.. And it wouldn't be fun if we didn't eat some while we made them! God forbid I turn my head for a second.. Austin drinks the sprinkles! GAH!!!!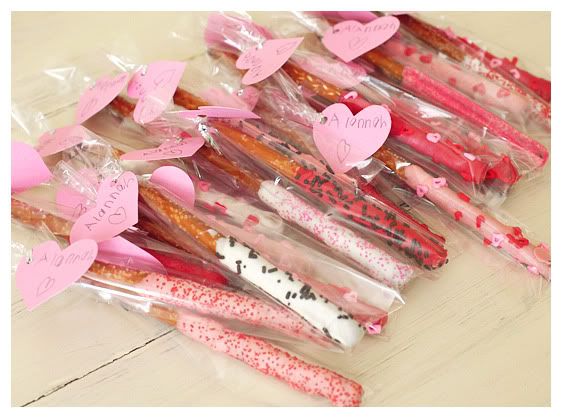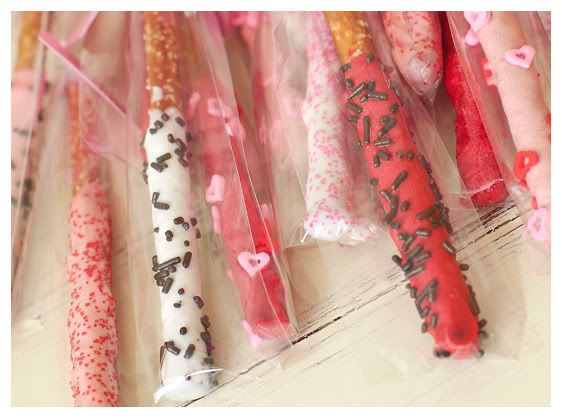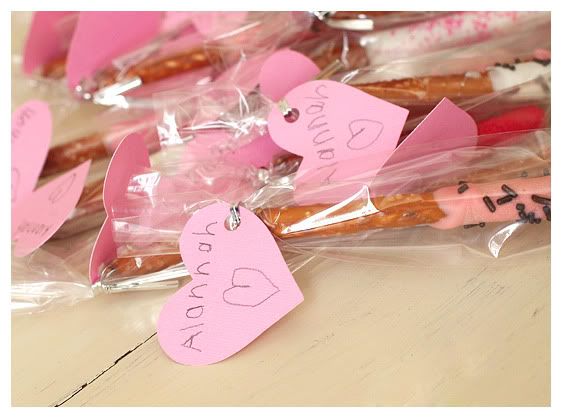 Would I get a 3rd bad mommy strike to have a bottle.... uh.. no, I mean glass of wine at.. I dunno... noon? I know, a glass at noon isn't bad... But, a glass at noon with 3 kids around and no hubby and you haven't eaten all day PLUS you're a 'lightweight' when it comes to alcohol... yeah, bad mommy. Good thing I didn't. Nope, I hit the coffee instead. Extra, extra sugar. I am pretty sure I gave myself a cavity today!
It's 5:45pm here and I am counting down for bedtime. I think I was counting down for bedtime at 10am. LOL!!
I love 'em.. I sure do! But, Mama neeeeds a breeeeak!
*sigh*
So... who's got that venti white chocolate mocha?..