Valentine's day is coming soon and I have been trying to get all my little goodies done! I always give the kiddos a little box of chocolate on Valentine's day.. Well, this is my first Valentine's with a Cricut so I wanted to step it up a bit and make my own. I had these awesome Conversation Heart Box files from Svg Cuts and was trying to think of some way to make it an actual top and bottom for that traditional candy heart box look.
After some thinking it came to me! And I LOVE it! I honestly think it looks better in person for some reason.. So pretty! ignore the wrinkled paper... I am using  a spare glue and it's mean and wrinkles my pretty paper.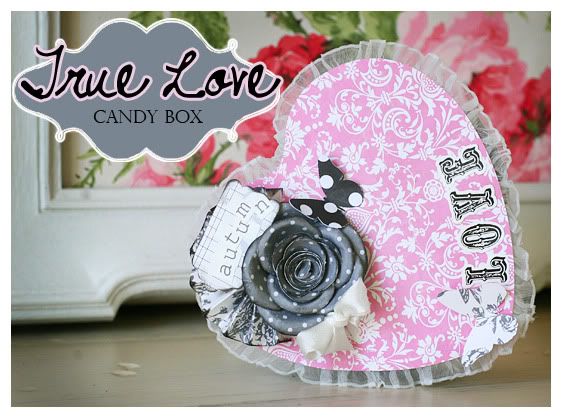 I love the stickers in this paper collection! I used a few of them on my project.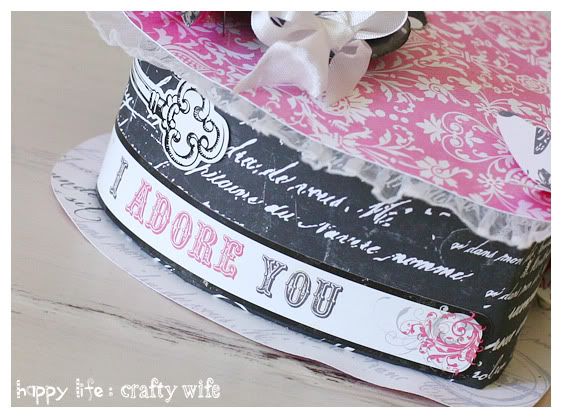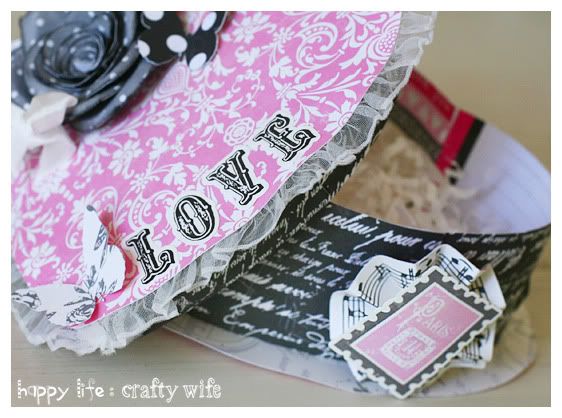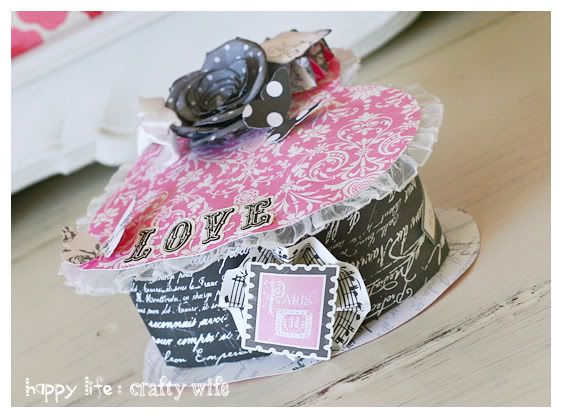 This 3d rose makes me happy *love*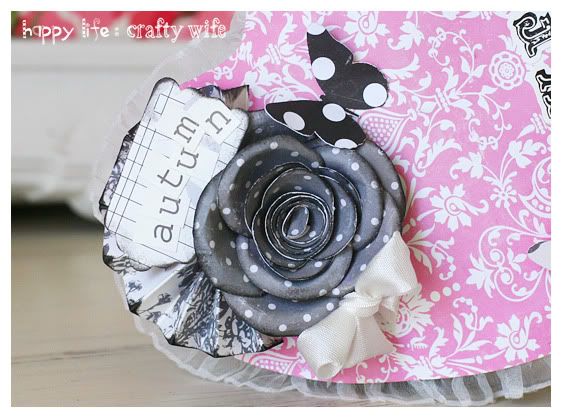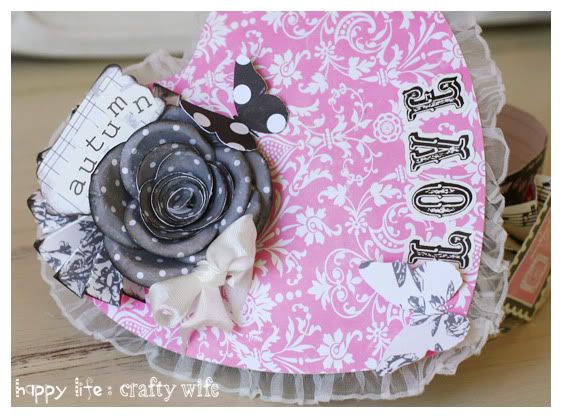 And.. because I know you are dying to make one..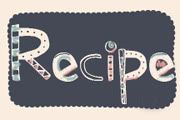 SVG files - Candy Heart Boxes : Breezy Butterflies : Crush On You Boxes (rose)
Cartridges needed - Sentimentals (I only used a tag from here. You can use your own tags or snag one from this SVG Collection Tags Galore)
Cut your hearts and tab strip in SCAL or MTC at 11" Cut an additional tab strip at 11" (Go to OBJECT> BREAK APART and delete your two hearts *this is in SCAL*)
Take your tab strips and trim them at 2". SO you will have a 2" strip and a smaller strip. Do this for both.
Cut your tabs so they are pretty small. This helps form a smoother shape to the box.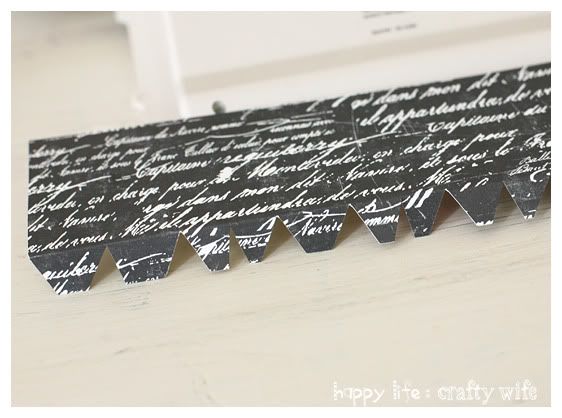 Score your tabs (or just fold them over) and attach like so: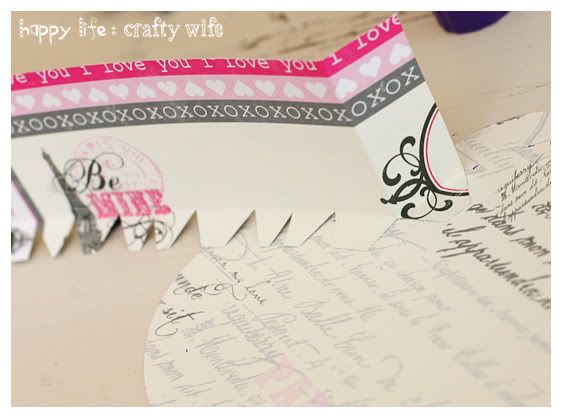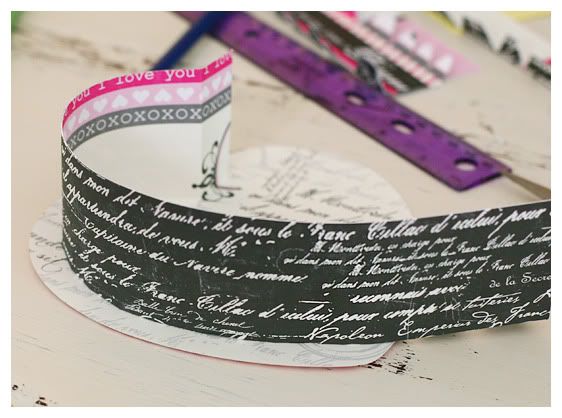 You will want a fast drying glue to work quickly. Also.. to have a 'lip' I went around the edges of the heart and marked off at 1/2". This will help form the box better and make sure you lid fits nicely.
Now, because I wanted a larger box I had to glue together two tab strips... just make sure you do not cut one upside down like I did, LOL! You can hide this line later with an embellishment or sticker. if you make your box smaller then it would be best to weld the two in SCAL.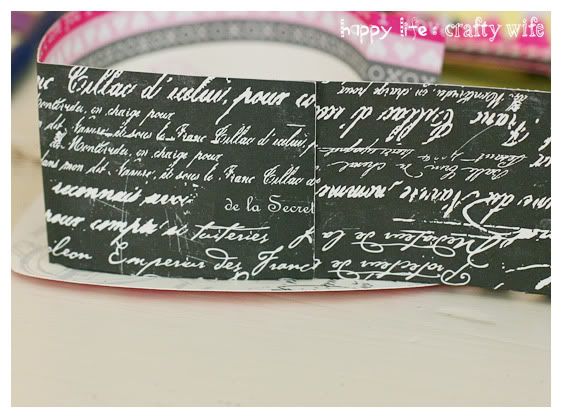 Once you get back to your starting point then connect it with your loose tab strip. (You will need to trim the loose strip down about 5" or so)
Yes... I use hair clips to hold things in place to dry..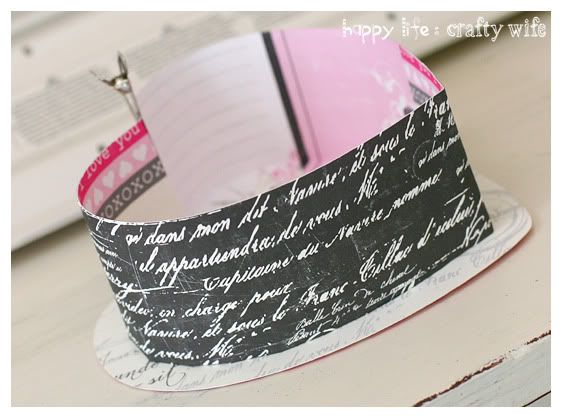 Do the same for the lid. IMPORTANT -- Your box will not close nicely if you do not match up the 'V' in the heart.. make sure you glue them in the same spots!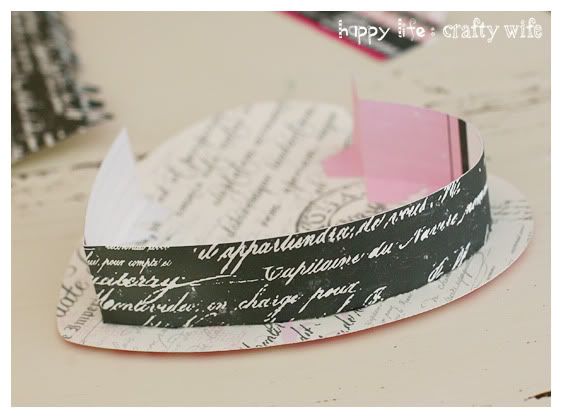 Voila'!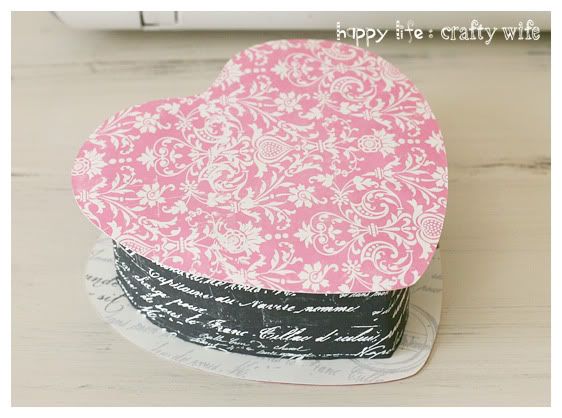 Time to decorate it!
Before I even made this I knew I had to have a 3d rose on it! The SVG Cuts roses are easier to put together than I thought they would be, especially with a hot glue gun!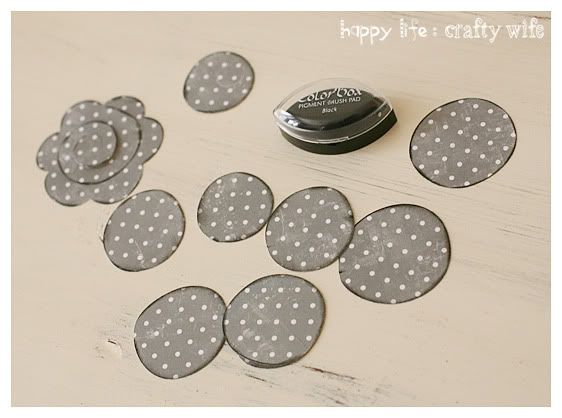 I inked my edges... I left some white area to show through the paper core because I like the way it looks in this project! If you need some help with the roses check out the SVG Cuts video
To create the fanned circles you just cut a strips at 1 1/4' x 11" (for the top one) and another at 1" x 11" for the side. Score/fold them at 1/2". Glue the ends together for a circle and that's it!
The paper collection is STUNNING! From the wonderful Echo Park line 'Be Mine'. 
I really hope you love this project and it inspires you! I had so much fun making it that I am working on a dinosaur box for my son! I will show you all in a few days!
Toodles!