.. Yes, I said crap room. That is exactly what it is right now! Back when all I did was sew I was pretty organized (well, unless it was my 'busy time' then.. yeah... I was always busy! Who am I kidding?) Anyhow.. now that I sew, papercraft, Mod Podge everything plus all my other little crafting adventures I need better storage and a bigger stable table! Right now I am using a cheap pop-up plastic party table that shakes like crazy when my serger starts going. No fun! My serger will literally run away from me when I use it!
I have been wanting to build myself some custom furniture for awhile now but, as usual.. I am super busy all the time (*cough* too lazy *cough*) Hmmm. Who said that?
Soooo.. I decided enough was enough with crafting in this chaos! I told...... umm.. asked hubby if he would build me a table this weekend (He has a 4 day weekend this week). Before he could say that he didn't feel like it I made sure to mention how excited I was and started to say "Thank you, thank you!" LOL! Muahaha!!...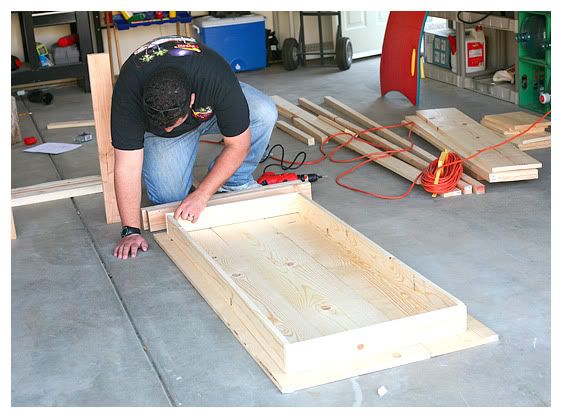 Whoo-hooooooooo! I am so excited! I have plans for an 'L' shaped table complete with hutch! I am also going to work up a custom scrapbook paper shelf to hold my 12x12 sheets and stacks with a cabinet underneath for fabrics!
I am going to stain it espresso brown and then do some distressed off white over the top! It will look right from Restoration Hardware for much, MUCH cheaper!
If we get brave enough we're going to add some lighting to the hutch and possibly a bench that I will make a cushion for.. yes, we're getting all Ty Pennington up in this hiz-ouse! It will probably take a month before everything is done and all, but, I can't wait to see it! Before I get too excited I just want to make sure this table can get done, LOL! Hubby and I have never built anything like this so I am crossing my fingers and toes that we can put our mind's together and create awesomness out of wood!
On a side note.. My Gypsy arrived! I was freaking out at first thinking I got a broken one because I could not get it to turn on. I let it charge for 5 hours and still, nothing! I was not a happy camper... and then.. I grew a brain. Yes, a real live working BRAIN! I was not pressing the power button at all. I was pressing some other button in the front, LMAO! For what it's worth, several people have done this from what I read on the Cricut message boards. Pesky little power buttons! Who needs 'em anyways?.... *Pfffft!*
So, yeah! That's it for now! I have high hopes the table will be done today and I can start staining it tomorrow! Yay for new craft space! *high five*