And they need to go away!
I've been a Lysol freak the past few days.. and it's not working.
I caught this nasty head cold from who knows where. With my constant trips to Michaels lately, I'd bet it's from some sick kid sneezing on some stacks of paper or ornaments.. bleh! LOL!
I THINK I will be well tomorrow. Maybe. Who really knows?... My husband has worked all weekend (16 hour shifts) and of course, I am sick and he is not home to help me. Moms are not allowed to get sick, right? If I get sick I can not lay in bed whining and moaning about a little stuffy nose that is 'killing me' (Like some handsome grown man I know.. and live with.. that I'm married to...).. *sigh* My kids are non-stop so any chance I had to sit down and just chill.. it quickly ended by a fight between my girls, my over dramatic 7 year old daughter who's world comes to an end at least 3 times a day... The cat scratched my son.. my son licked the cat.. so and so needs a drink, snack, dinner... son needing to pee every 5 minutes! (yes, I swear he had to go to the potty waaay more than usual on my worst sick day!) My poor head was pounding! Ahhhhhh! Over it! It's so hard to keep a happy mommy face on when I am not feeling well. And trust me, happy mommy face was long gone before I stumbled out of my room that morning!
I went to bed early last night after my day for hell.. Didn't matter. My son woke me up TWO TIMES last night to.. yes.. go pee! What the heck? WHY?.. Can a girl just get some sleep? No, no I can't. He then woke me up around 6:30 crying because he was SICK! Egh! It begins.. the cycle of germs! Never, ever can just one person in my house be sick. We like to share.. passin' it around. I know my girls are bound to get sick in a day or so.. I should have started sneezing on their pillows the first day I was sick to get it over with.. You see, we have a trip to Ryan's (hubby) parents planned this weekend for an early Christmas celebration. I have a gut feeling one.. if not TWO of us will be sick. Not good. I don't want to go sick, either. My baby nephew will there there, my pregnant sister-in-law and the rest of the bunch. I don't want them to be sick for actual Christmas day!
Hopefully I will be 100% tomorrow. I really need to get started on some baking. *fingers crossed* Right now I have a slight stuffy nose, itchy cough and a headache... wanna kiss?, LOL!
On a side note.. I crafted a bit the other day! Instead of feeling sorry for myself having some germies.. I took some DayQuil and got busy making some yarn trees!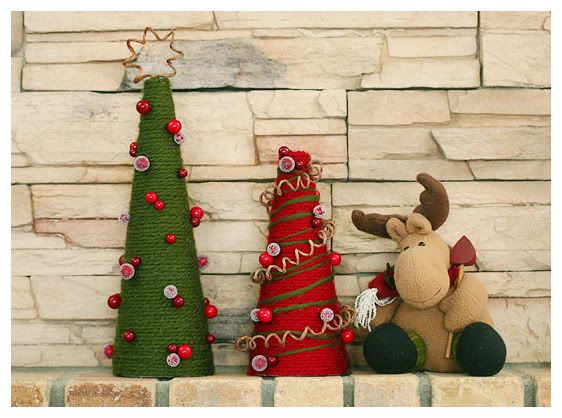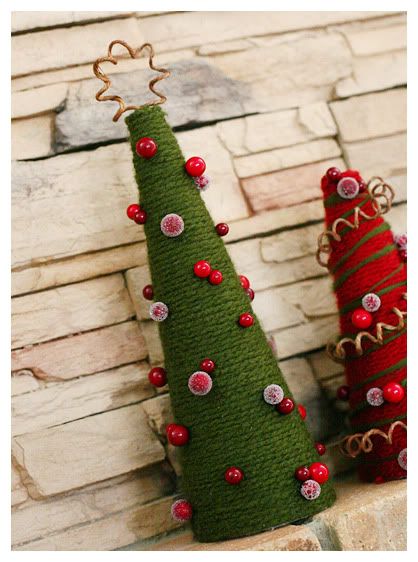 Cuuuute! I love my little trees! They match my new decorations perfectly!
Now, with touching the pretty soft yarn.. and for the first time ever, going down the yarn isles.. I fell in love! I now have an urge to learn to knit! I have been looking at some videos and an online forum I found. Seems complicated, LOL! But, I need to remind myself I say that about every thing I start for the first time. After Christmas is done I plan to pick up some supplies and try to make something. I will probably start with a scarf. *shrugs*
Anyhow.. gotta go! I'm going to snort some Afrin and go to bed!