This little goodie box would be great to add to your table for each guest (Unless, you go somewhere like my grandmother's and can get about 45-50 relatives at a table that your uncles built.. well, then.. that might be a bit much!)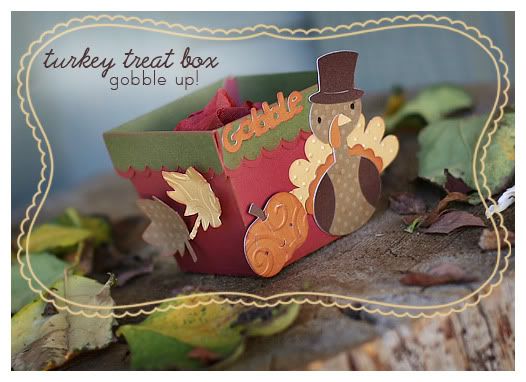 I created this little box to add to the design challenge on the Fantabulous (hey, someone uses that word besides me!) Cricut Blog .
I used the Cindy Loo Cartridge for the box. I made a lining for the box and just cut the tabs off for the lining and glued both pieces together. It was kind of hard to fold it being so thick so I used my Cricut cutter to score it. Easy peasy! The turkey, leaves, "gobble" and pumpkin are all from the Create a Critter cartridge! (super cute and a must have!).
I folded up the edges of the leaves and used a foam double sided sticky for a 3-d look. I need to get some glue dots! I had some and then lost them.. so sad.
And can I just say I love, loooove my Cuttlebug!? I've said it before, but texture adds so much to a project!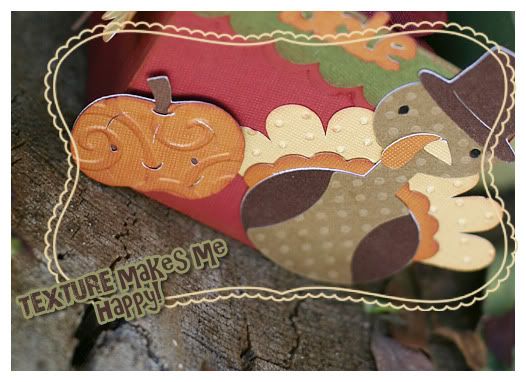 I hope you like my little turkey box! It was fun to make :)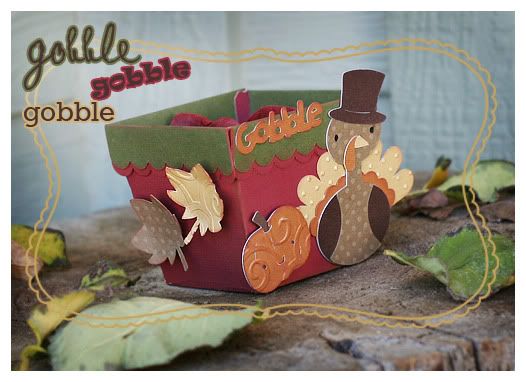 See ya!! I will be busy baking and decorating a cake tomorrow for my step sister's wedding this weekend! I probably won't post another project until Monday.. but, I could very well be lying about that since I am always trying to squeeze in another project at night, lol.. and of course I gotta share it ;) Actually.. there is not much of anything on TV tonight.. (well there is, but the DVR records them so I can watch them with the hubs) so maybe I will whip something up!
Ta-ta!