I was locked out of my blog for whatever reason.. :( so sad.. But, as you see, I am BACK!
Soooo.. I have so much to talk about! I will try and keep this one short though.
Anyhow, HAPPY THANKSGIVING!... umm.. like, 4 days ago! I was at my moms house with my kids for a few days (hubby had to work.. and a double shift at that!) I had a nice time.. lots of yumy food! They deep fried their turkey and man, oh man.... Do you see the drool running down my face?... SO GOOD! I made a pumpkin spice cake with cream cheese frosting that everyone loved! I gotta admit, it smelled soooo yummy but I refuse to eat it. Cream cheese... pumpkin.. GAH! Me no likey!
We came home on Friday and I was bummed out about my lack of black Friday shopping :( I wanted $9.99 pillow pets from Toys R Us, dag-nabbit! But, I cheered myself up with Starbucks and Christmas music! We got out all the decorations and prettied up the house for Christmas. Wanna see my purty tree?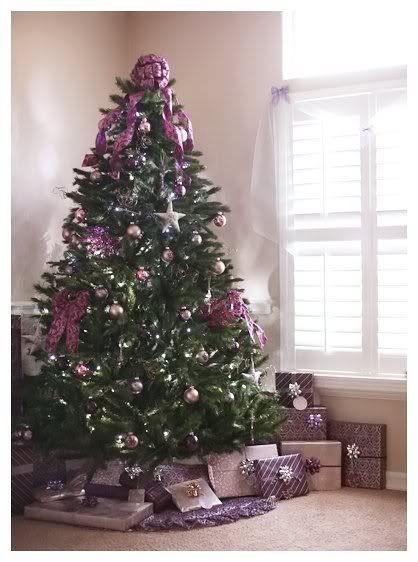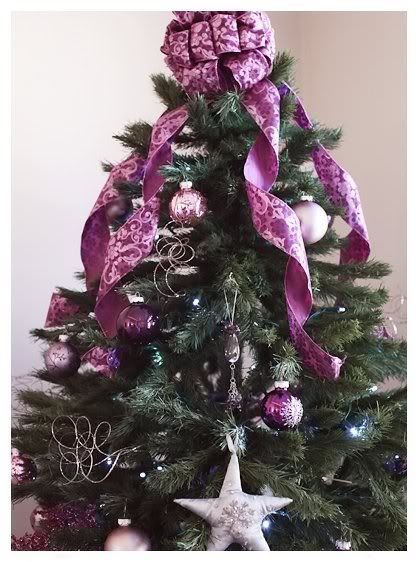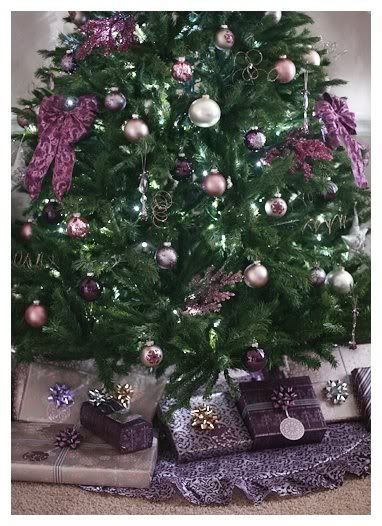 (photos are from last year..)
I looooove my purple decorations! I am not a very good 'tree photographer' and it really is so much nicer in person.. well, until today! I am one of those people who wants a forest in their house in December! I always put off getting a new tree.. every.single.year. Sooooo.. hubby brought me home a pre-lit white tree today! I've been wanting a white tree! I love it! And this baby was a whopopin' $79.99! Yeah, buddy! It's 6.5' tall so it's a good height! I decided to move my purple decorations onto the white tree.. and wow, it looks AWESOME! Now I can't wait to go buy all new stuff for my green one!! I saw some at Michaels that I loved and I am hoping they still have them in stock when I go in on Wednesday. Knowing my luck, they will be sold out!
With the past week being so busy I didn't have time to craft much. Yesterday I finished up these door knob hanger treat boxes for my little monsters! I didn't go 'all out' on them because I know they are going to rip them apart in 30 seconds or so... I would hate to see all my hard work be destroyed! So.. I did cute and simple! I used a mix of SVG files and cartridges. If you want to make a door hanger like this one you can get the file here.. pricey for one file though -- In Suspense File and of course, the fabulous SVG Cuts released THESE right after I finished mine. They would be too small for what I wanted to do.. but wow, aren't they adorable?!
 The girls boxes have candy, Christmas Silly bands, Christmas playing cards, PEZ dispenser, chapstick and the little headband. Austin has all that minus chapstick, cards and Silly Bands and I added some cute Toy Story 3 figures!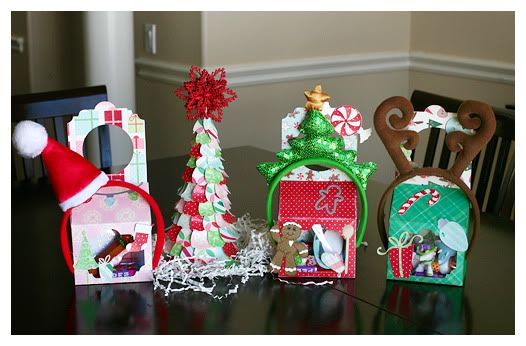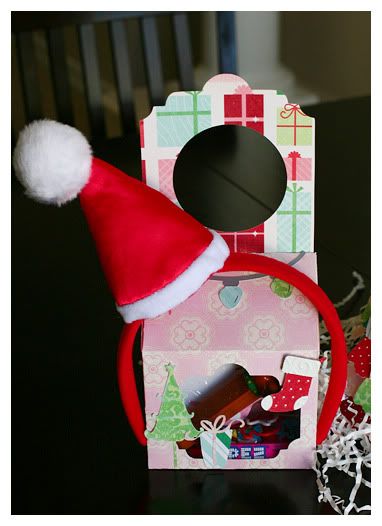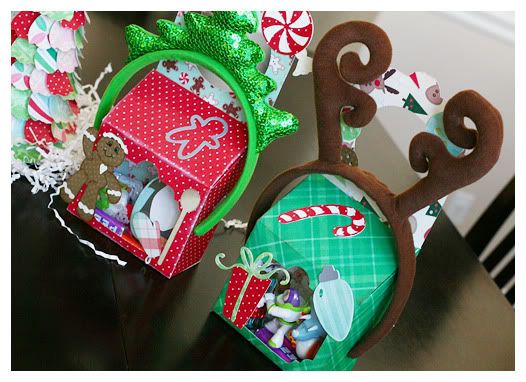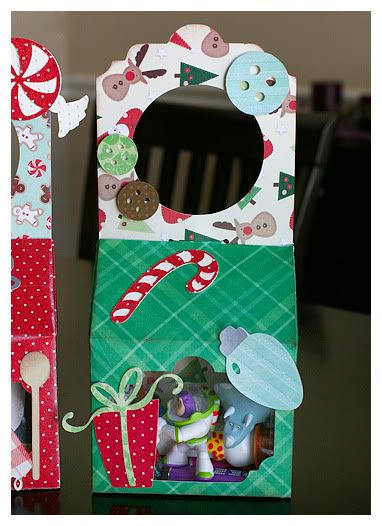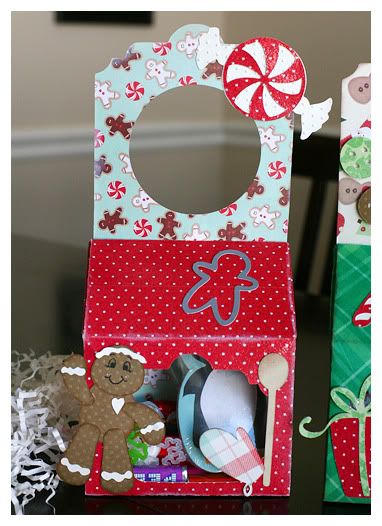 I love the gingerbread man one! I didn't have a white ink pen handy to fill in the eyes though.. bummer! I will have to add that to my growing list!
I plan to surprise them on December 1st! I know they will just love them!
Ok.. looks like I've rambled enough for one post.. But.. I have to brag it up for a bit! With all the AMAZING entries for the SVG Cuts challenge for 'Christmas Cards' I still won 3rd place!! I was shocked, really!! How fun! It was for my COOKIE JAR card! I really didn't think my card was up to par with the others I saw.. but, yay me!